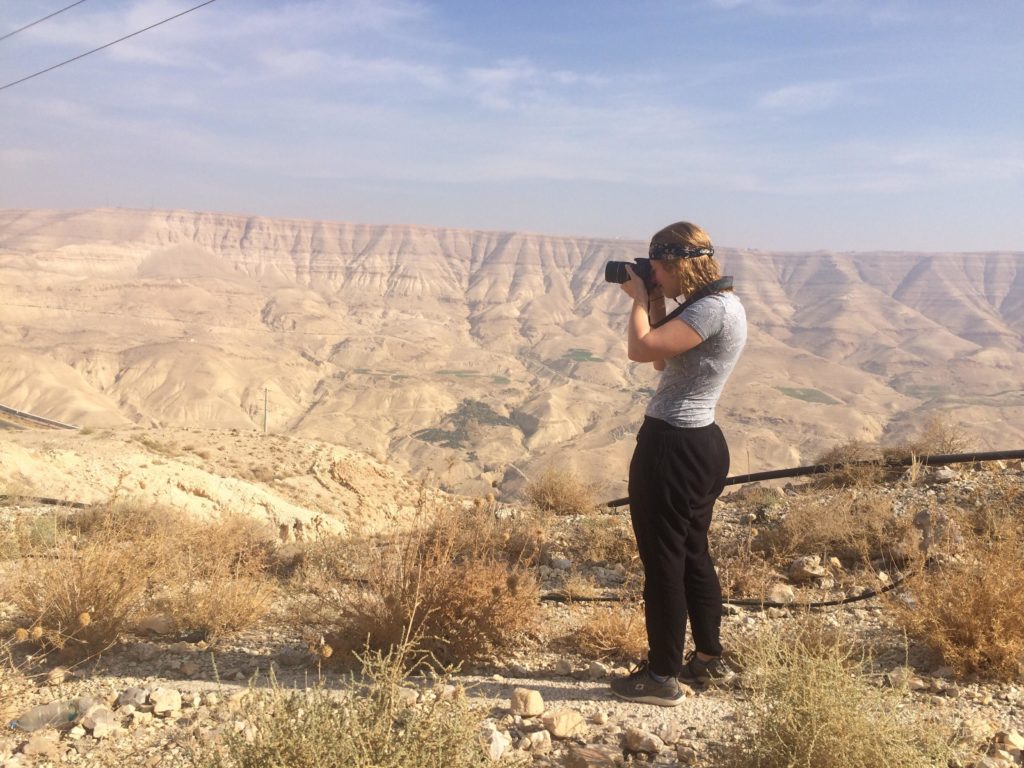 Please scroll down for the english version.
Hallo ihr Lieben, ich bin's Natascha,
ich bin 22 Jahre alt, Studentin und eine Weltenbummlerin aus Deutschland. Im Rahmen meines Praxissemesters habe ich beschlossen ein Praktikum in Amman, Jordanien für 5 Monate zu absolvieren.
Ich habe in dort in einem Zentrum für Menschen mit Behinderung gearbeitet, insbesondere mit Kindern mit Behinderung in einer Art Förderschule.
Wie es nun Mal so ist, wenn man zum ersten Mal in ein neues Land kommt, hatte ich auch einige Herausforderungen zu meistern. So weit weg von Zuhause, seiner Familie und Freunden können Probleme, so unbedeutsam sie sind, doch gigantisch erscheinen.
Ich möchte euch erzählen mit welchen Problemen ich in Jordanien zu kämpfen hatte und wie ich sie gelöst habe.

Vertraue immer deinem Bauchgefühl! 
Kurz vor meiner Ausreise, war ich unterwegs mit Freunden und habe das letzte Geld von meiner Kreditkarte abgehoben. Ich hatte ein komisches Bauchgefühl ganz ohne Geld auf meiner Kreditkarte in Jordanien umher zu reisen und dennoch habe ich mich dagegen entschieden nochmals Geld auf meine Karte zu überweisen, da ich sie in Deutschland kaum benutze und ich mir die Kosten sparen wollte. Zudem hatte ich meiner Meinung nach noch genug Bargeld bei mir- also was könnte schon schieflaufen?
Jordanien
Jordanien heißt offiziell "the Hashemite Kingdom of Jordan" und ist ein Land mit einer Geschichte von vielen verschiedenen Religionen und Zivilisationen. Das Land ist bekannt für seine schönen Wüsten, das tote Meer und eins der sieben neuen Weltwunder- die Felsenstadt Petra.

Lass dich von kleinen Fehlern nicht unterkriegen!
Am 16. Dezember waren meine Taschen fertig gepackt und ich war bereit nach Hause zu fliegen. Meine Zeit in Jordanien war vorbei und ich freute mich sehr Weihnachten mit meiner Familie zu feiern. Eine Freundin brachte mich zum Flughafen und wir verabschiedeten uns und ich ging zur Gepäcksaufgabe. Dort fiel mir auf, dass ich mein Handy in der Unterkunft vergessen hatte. Zum Glück durfte ich das Handy eines Mitarbeiters am Flughafen benutzen und ich rief meine Freundin an, welche mir mein Handy vorbeibrachte. Nun konnte es endlich weiter gehen und ich ging zur Sicherheitskontrolle und reichte ganz selbstsicher meinen Reisepass dem Mitarbeiter. Nun konnte nicht mehr schieflaufen! Oder doch?
Der Mitarbeiter an der Sicherheitskontrolle begutachtete mein Reisepass und dann mich. Kurz und knapp schickte er mich zur Polizeistation nebenan. Ich eilte dorthin, doch dort war niemand anzutreffen. Immer unruhiger wurde ich mit Blick auf die Zeit und nach langem hin und her kam doch ein Polizist. Ich erkundigte mich was das Problem sei und er antwortete mir, dass ich einen falschen Stempel im Reisepass habe, mein Visum deshalb nicht verlängert war und mich seit einigen Monaten illegal im Land aufhalte.
Ich war total von den Socken. Wie konnte das sein? Ich bat den Polizisten sich bei der Polizeiwache, an der ich mein Visum verlängert hatte, zu erkundigen. Doch er blieb stur. Die einzige Möglichkeit war eine Strafe von 120€ zu bezahlen, um meinem Flug noch zu erwischen. Meine Gedanken drehten sich im Kreis, denn wie ihr wisst hatte ich kein Geld mehr auf meiner Prepaid-Kreditkarte und nur 100€ in Bar bei mir. Ich musste schnell handeln in 10 min würde das Gate schließen und ich meinen Flieger verpassen. Ich hatte die Hoffnung, dass ich eine Online-Überweisung machen könnte, doch es war nicht möglich. Mit nur 5 Minuten bevor mein Gate schließen sollte, wusste ich, meine Zeit war ausgegangen. Ich stieg ich in ein Taxi und fuhr zurück in meine Unterkunft – ganz frustriert. Ich war auf alles und jeden sauer, aber am meisten auf mich selbst.
Ich musste noch etwas in der Unterkunft bleiben. Freunde halfen mir das Missverständnis an der Polizeistation zu klären und ich buchte einen neuen Flug. Alles zusammen war sehr ärgerlich jedoch etwas Gutes hatte es auch, ich konnte mich von vielen lieben Menschen verabschieden, denen ich zuvor nicht "goodbye" sagen konnte. Zudem habe ich meine Freundin davor bewahrt auch Probleme mit dem Visum zu haben und somit konnte sie auch nach mir das Land ohne Probleme verlassen.
Eine echte #girlsforgirls Situation
In der genannten Situation war meine Freundin einfach für mich da, denn unter den den vielen Person, die ich kontaktieren konnte, war sie die Person die ich am ehesten erreichen konnte und die wusste, wann und wo ich am Flughafen sein sollte. Sie war auch am ehesten die, die prüfen würde ob ich geschrieben habe. Ich wusste in der Situation, dass sie sich Zeit nehmen würde, um mir zu helfen, weil ich sie so über die Zeit vor Ort so kennengelernt habe. Das sie mir mein Handy gebracht hat, hat mir Sicherheit gegeben. Ich hatte damit ein Werkzeug, mit dem ich das darauf folgende Problem besser angehen konnte.

Nataschas #girlsforgirls Tipp:
Nicht alles kann in eurer Kontrolle sein. Überprüft Daten und Stempel am besten doppelt und reist besser mit etwas Geld auf der Kreditkarte, auch wenn es nur für den Notfall ist. Behaltet einen ruhigen Kopf, es gibt immer eine Lösung und wenn etwas richtig schief läuft dann regt euch mal kurz auf, passt aber auf, dass ihr euren Ärger nicht auf andere überträgt, die nichts dafürkönnen. Schlussendlich kam ich doch heil zuhause an trotz aller Probleme. Vertraut immer auf eure Bauchgefühl und lasst euch von kleinen Problemen nicht aus der Bahn werfen.
Denkt immer daran: aus jedem Fehler kann man etwas lernen!
Eure Natascha
________________________________
English version:
Dear readers,
I am 22 years old, a college student and a world lover from Germany. As part of my college program I decided to do an internship in Amman, Jordan for five months from August to December.
I have worked in Jordan in a center for people with disabilities, especially children with disabilities in a kind of special school.
As it is when you go into a different country for the first time, I had my share of problems. Whether it was simple misunderstanding, being ignorant of the basic cultural to-dos or just feeling homesick- any problem one has away from family and friends can seem gigantic. But instead of having what you will read keeping you from your own journey to another country, let us together think about how to do when you experience problems in another country. I want to do this by giving you an example of my biggest problem in Jordan.
Always go with your gut feeling
It was December the 14th. I was out with friends and I picked up the last bit of my money off my credit card. Talking to a friend, I mentioned that I was considering transferring more money onto my credit account just in case anything happens. I had a strange feeling traveling without any money on the account I could access in Jordan. I decided against it, however, as I would not be using by credit card in Germany and the costs would be a waste. I had enough money with me in cash. What could go wrong with a hundred euro cash?
Don't let small mistakes take up your time
It was December the 16th. I was packed and ready to go. My time in Jordan was up and I was looking forward to flying back to Germany and spending Christmas with my family there. I was brought to the airport by a Jordanian driver and a fellow German student. We said our goodbyes and I went through the security at the airport where I realized my first mistake. I left my phone back where I lived. As I came quite early to the airport, I managed overtune the worries in my mind with self-reassurance. I asked the Lufthansa staff at the counter of my baggage check-in and a staff member kindly allowed me to use his phone to reach my friend. In the nick of time the german friend brought me my phone and when the goodbyes we repeated, I headed into the inner security checkpoint. And that's where the small uncomfortable problem became a chaotic one. For once I was at the checkpoint I held out my visa, confident that nothing else could go wrong.
The culture doesn't change just because you're stressed
But I was wrong. The airport staff repeatedly glanced at my visa and back at me. The nagging feeling that something wasn't going according to plan came back. The staff asked me to take my visa and go to the police station at the side of the airport security checkpoint. So I went out of line and headed to an empty cubicle. The cubicle was empty and there was no policeman in sight. With my eye on the time, which was by now no longer merciful, I asked passing-by staff members who the person in charge of the cubicle was and where he was. As I became more worried, I felt the stress rising and I became angrier by the minute. Finally, after ten minutes waiting, a policeman came to take his position. I asked him for the reason I was asked to head out of the line. He looked over my Passport papers and laid them out on the counter between us. "You're Visa stamp is not correct. You have been in this country illegally for the few months."
Don't beg: think.
"Excuse me?" I asked, aghast. In my mind there was absolutely no way that could be possible. Previously to this, together with my friend, I did every step that was asked of me. We were in Jordan on a tourist visa and visited the police station regularly to extend the visas. We received a stamp from the police stations every time. So how could something be wrong? I begged the policeman to call the police station where we got our stamps from but no matter how much I tried to explain he wouldn't budge. He told me the only way to catch my flight was to pay a penalty, which added up to 120,- Euro.
Try everything you can
Immediately the alarm went off in my head. 120,- Euro! It could have been any amount of money but it just had to more than the amount I brought with me in cash. My credit card wouldn't allow me to go into minus. None of my other cards were possible in Jordan. If I was to catch my flight I needed money, and within ten minutes. I asked the officer what I could do but he just shook his head at me and asked me to leave the counter. Then a thought came into my head: Would it be possible to transfer money to a money transfer at the airport and pick it up in cash? I ran back through the security checkpoint and ran down to the Arrivals where there was such an office. But they couldn't help me as they had no experience with online transfers.
With 5 minutes before the gate closed, I knew I was out of time. By now I was angry at everyone and everything: the police, the person who checked my visa and mostly at myself. I left the airport and took a taxi cab to the place I had called home for a few months. I reluctantly had to call it home for another few days.
Natascha's #girlsforgirls tip
Dear readers, forgive me for telling you such a tragic story on how I lost out on a perfectly good flight. Sometimes it's important to look reality into the eye and to reflect on the many ways one could have reacted differently to the situation.
I did learn out of the situation though, that it's important to follow your gut feeling. You can never be sure that mistakes don't happen when you're traveling so be prepared as best you can. Don't take your frustrations out on the people, because if they are of no help to you, they most likely are just as helpless as you are. There is also an encouraging side to it all: Going back to my Jordanian home, allowed me to say goodbye to many people I didn't have the chance to say goodbye to. They provided me with friendship and help I needed to figure out what when wrong with my visa stamp. Furthermore, I was able to save my friend from going through the same trouble by going through the problem first. And I knew, that even though it didn't work out for me in the end, I had tried my best to get home. And I did get home in the end..
Yours, Natascha