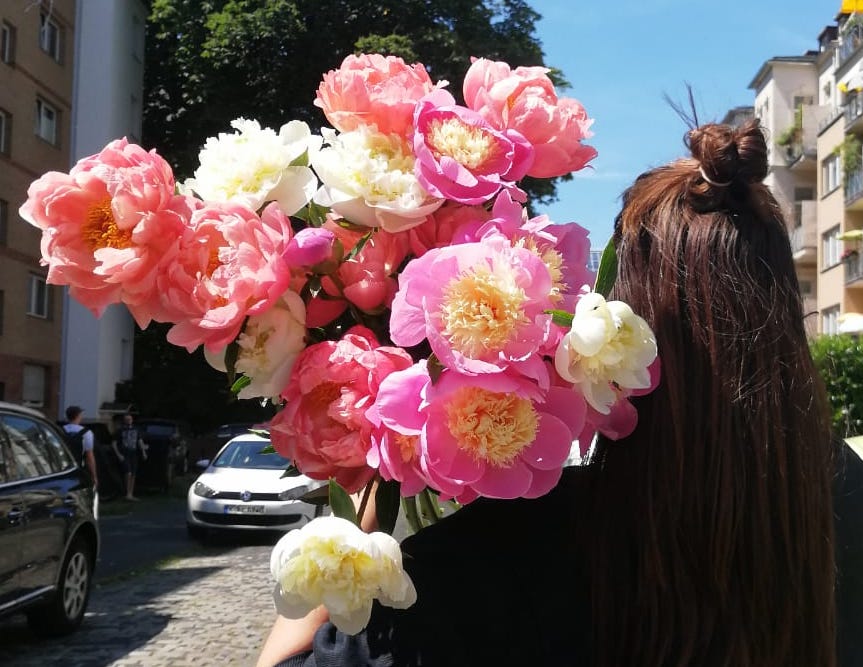 Hi, I'm Samira! I am 21 years old and in training to become a florist.
I'm learning in Cologne at Goldregen floraldesign in the Belgium district.
This job is characterized by its creativity and its craftmanship. That means you're making a workpiece with your hands. Coolest part of this? There are no creative boundaries! You get to know an incredible number of flowers; you can't even imagine how many there are. Various color variations and flower shapes
I always wanted a creative job – not an office job. That was clear to me! I had the idea to make floristry my profession after school. At that time, I had already worked three years in a flower shop.
Fun Facts:


On Valentine's Day almost only men come to the store.
Trend plant Eucalyptus: everyone wants to have it in the bouquet and flowers become a minor matter.
Peonies are so popular that even weddings are planned after their flowering time.

Much work, but nice work!
My everyday life in the flower shop is very varied: binding bouquets of all kinds, serving customers, pant care, cutting flowers, decorating and of course cleaning. That's just part of it. Besides working in the shop, you also go to vocational school. With subjects such as design and material: plant.
Working on Saturday is also part of the job, that doesn't mean never weekend again. By the end of the week you will have 40 hours, which is equivalent to a normal full-time job.
"IN THE PHOTOS YOU CAN SEE A WEDDING WITH A SPECIAL FLOWER DECOR – THAT WAS REALLY A BIG NUMBER. THE COUPLE WORKS IN THE INDUSTRY TOO AND WANTED SOMETHING EXTRAORDINARY."

To fulfill with flowers wishes
The place I work at specializes in wedding floristry. The nice thing about this is that you work out their personal wishes together with the couples. You accompany them florally with bridal bouquets, pins, hair wreaths, table decorations, wedding arches, flower walls and much more.
Summer is wedding season, which means more work – nice work. Same thing on Christmas. About two weeks before the 1st advent I make advent wreaths, which vary in the design.
Then there are the other holidays. For example, Mother's Day and Valentine's Day. Then it's very busy and everyone wants flowers.
There's always something going on and there's always something to do.
The great art: The bridal bouquet looks at least as good after the wedding as before.
Education as a florist in Germany

Florist, is that a job for you, too?
Do you have an eye for design and color?
You love to be surrounded by flowers?
You have strength in your arms?
You are outgoing and can imagine working in the service industry?
And above all you want a job that is exciting and diverse?
Sounds good? Then I can recommend you an internship in your favorite flower shop!
Grades, degrees and qualifications are not too important. Most people place much more value on your personality and your way of working.
Maybe we'll see each other.
Yours, Samira