.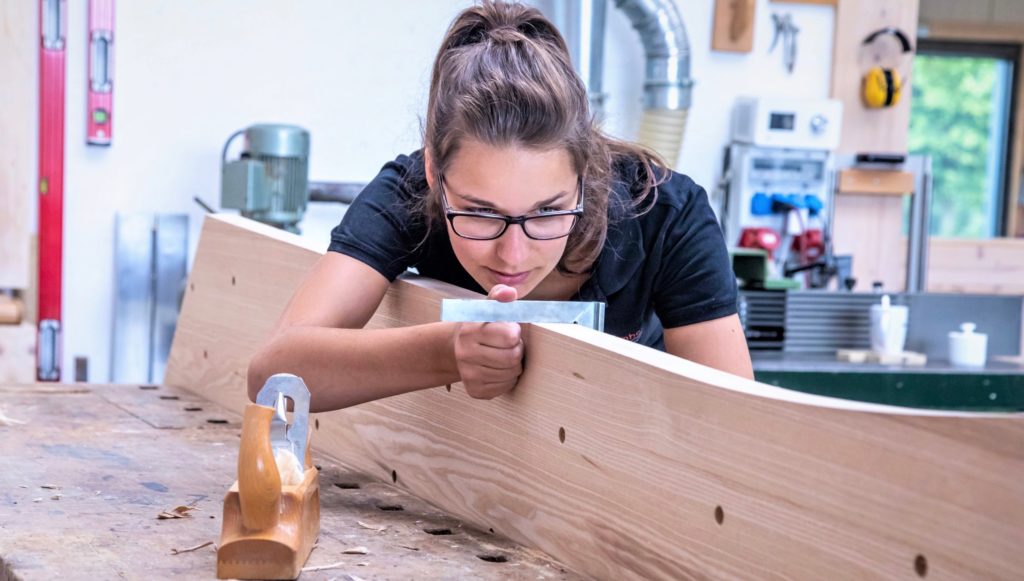 Do you actually know which professional fields belong to craft? This #PassionWeek, we are introducing young women who could not work more differently in the field of craft but at the end of the day all create something great with their hands.
The field of craft is (unfortunately) still experiencing a downward trend and many training positions remain vacant. As a result, many skilled trades are becoming increasingly extinct, even though craft is so important for the functioning of our entire system and can be incredibly fulfilling.
Get inspired by the variety of crafts in this two-part PassionWeek! You get great tips on how to become active yourself and learn why manual work can be good for your personal development.
.
Known from television – Jule is training ambassador and "Miss Handwerk 2020″
.
"I remember very well that we built a tree house as children. This was how I created a big "project" for the first time and was able to get to know the feeling of what it is like to see a result at the end of the day that you can bring to perfection every day. It's this feeling that I love, and which makes me happy today and in the past.
I really enjoy craft and I feel totally comfortable in my job. I would like to show this to as many people as possible so that they can see that craft is great and something you shouldn't be ashamed of. You can do a great job without a high school diploma. It is particularly important to me to show young women that nowadays you can also be successful in craft as a woman."
Our first power woman will certainly look familiar to you – but of course! Since Jule (20 years from Selfkant) can be seen on many billboards and in the advertising of "Das Handwerk".
.
.
Jule brings her craft to the public
With her 20 years she is not only a future master carpenter, but also, since 2018, part of the image campaign of "Das Handwerk" and is involved as a training ambassador.
And not only is she successful here, she was just recently selected "Miss Handwerk 2020", in the "Germanys Power People" competition, and will therefore represent the craft in Germany for a year now, together with her title winner colleague Mister Handwerk. Of course, we would like to congratulate you on that, dear Jule!
.
Jule has a passion for craft in her blood
From a very early age on, it was clear to Jule that she wanted to become a carpenter one day – she was practically born into this profession." Already as a child, I wanted to become a carpenter. Since my father had his carpentry right next to the house, I got to know this profession early on and was able to work with wood as a material. Also, I got an insight into the everyday working life early on.
.
.
"My passion includes self-confidence and role model function"
The biggest challenge is to assert yourself in such a way that you are acknowledged just like men. Of course, this creates the opportunity to prove yourself and to be valued. Sometimes you have less strength as a woman than your male colleagues. However, this is never a problem, because we like to help each other. As a woman in the craft profession you are definitively in debate and known," tells Jule.
With her assertiveness and passion for her craft, she not only asserts herself among her colleagues, but also gains their respect and that of the customers. This makes her confident and an inspiring role model for other young people.
.
Jules # girlsforgirls tip
"Dare to go your own way. If you deal with it honestly and stand by it, everyone will take a positive view of it. And I advise everyone to do an internship before the apprenticeship to find the right craft job."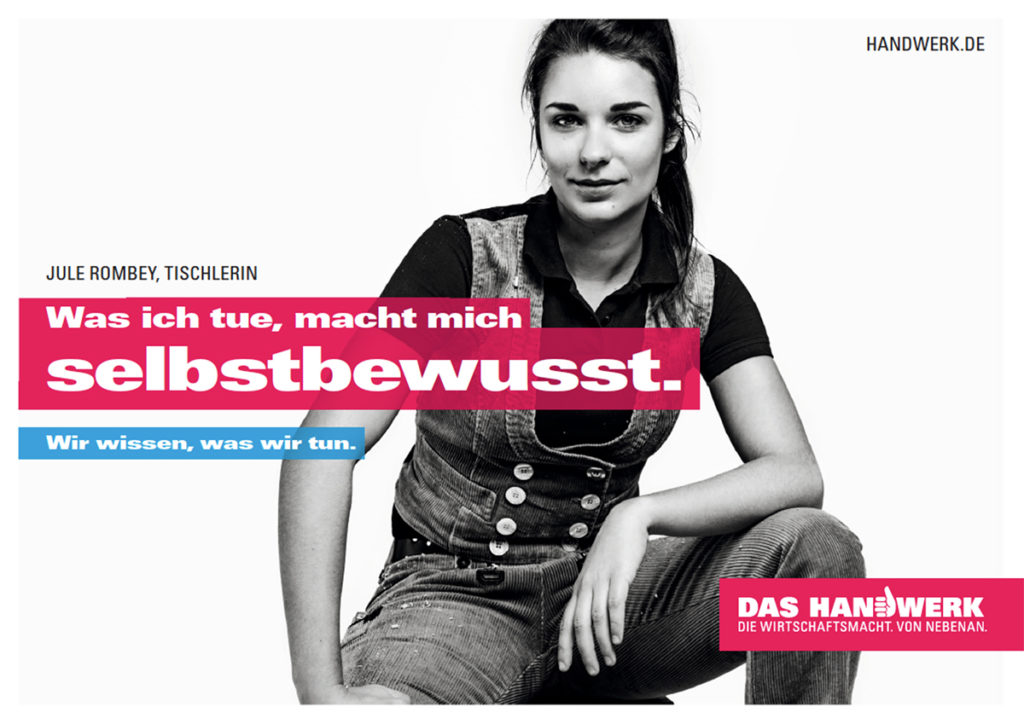 .
Craftwork as a development potential – our expert from the craftswomen
house explains to you why
.
Petra Supplie is a board member of the Cologne craftswomen's house, a place of learning and education for girls and young women, with many project and course offerings in the craft sector, and works as a carpenter and plant manager for the "Holly Wood" girls project, a career orientation for girls in craft and technology.
This is how manual work has a positive effect on your development:
.
Your own action has a direct effect and the result is immediately visible and "tangible".
Working with hands wonderfully relaxes the head because you concentrate on the specific thing; other, for example private topics, which are emotionally difficult to work on can rest.
Your own fine motor skills and abilities are trained. You can directly experience that you get better and better through practice and attain more beautiful results. This experience also increases one's own tolerance for frustration.
Joy and pride in your own work make you happy and strengthen your self-confidence.
Technical know-how is also very useful for everyday life. Women can repair or assemble something themselves. There are countless situations in which manual skills are very useful and make life easier. It makes girls and women more autonomous and independent.
.
.
Petra's pro-tip for you, how you too can have your own sense of achievement in craft:
"Don't get frustrated if something doesn't work right away – just stay tuned. Often you just have to know how something works and then with a little skilfulness can do it yourself. Therefore: get tips, ask how it is done; whether in the hardware store, with craftswomen and craftsmen in your circle of acquaintances, on the Internet or in one of our women's courses."
Let's go!
.
The great prejudices against women in the craft
.
Now you got to know Jule and why she loves her craft and our expert revealed why it generally promotes your development to create something yourself with your own hands. But often it is not just the #Passionchallenges, like the ones our power women faced, why so few women work in the craft – it is often also prejudices that prevent them from considering this direction in the first place. One of the prejudices is that men are better craftsmen, women cannot keep up with physically difficult work, furthermore the toilet situation would be difficult and the desire to have children could pose a problem. How are conflicts between colleagues resolved, how are they taken care of or what should the female and male colleagues talk about during breaks? These are obvious questions that concern this male- dominating professional field. (MyHammer). PUH! We think: There is still a lot of work to be done here. But that shouldn't stop us women from wanting to carry out this job anyway.
.
What is your answer to these prejudices? Can you imagine carrying out a craft profession? Let us know in the comments.
.
In the second part of the PassionWeek, you will get to know another two young women who are passionate about their craft.
.
* This article contains unsolicited and unpaid advertising.