.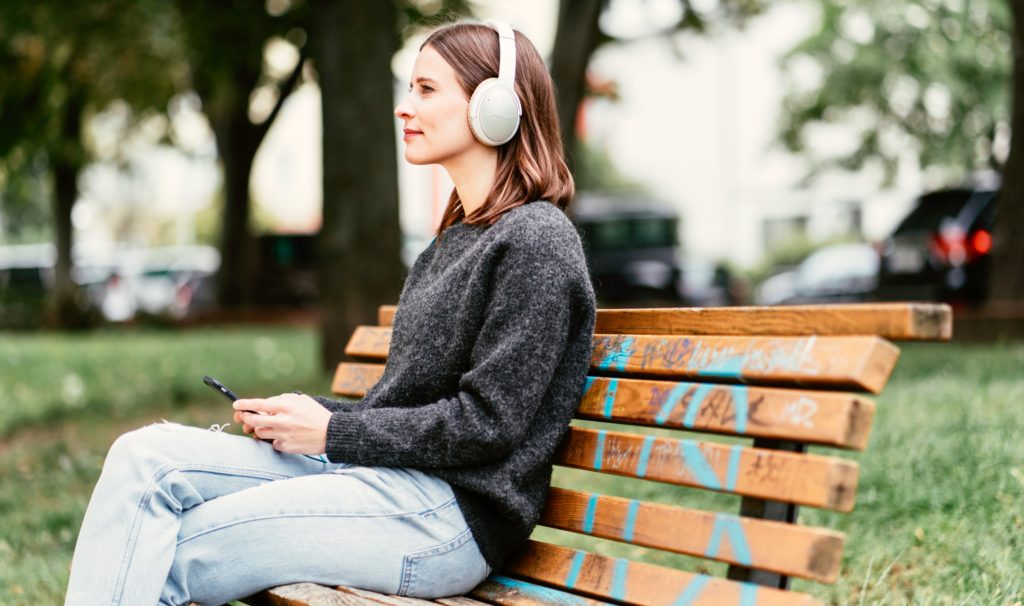 .
Have you ever tracked your screen time? We often spend a lot more time in the digital world and online than we really think. Very often with lifetime eaters that offer little to no additional value, too. Sometimes these contents can also drag down a lot… Digital detox, which is the refraining from smartphone, screen and Co., is an option but for many not the solution.
Of course, the numerous digital achievements nowadays not only have disadvantages but also certain advantages. The demand for content with additional value that can be consumed digitally with and without a screen is increasing enormously. And that's what this #PassionWeek is about. My passion – digital relaxation, offers you three ways to relax. Two female authors tell you about their passion with which they offer relaxation and a good time to other people. Also, don't miss the contest at the end of the article. You can win the inspiring book "Unfollow!" by Nena Schink.
.
Falling asleep with CushyASMR
Ever heard of ASMR? This is the epitome of digital relaxation on YouTube. "With my ASMR videos, I help my viewers to fall asleep and relax. In the videos, I use different triggers, which then can provoke the so-called "tingles" in my viewers. Tingles are a pleasant feeling, such as a tingling of the head or a slight goose bump," says Christina (22 years old), who is also known as CushyASMR and has already 15,500 subscribers on YouTube.
"I came to ASMR when I found a video in which a "comedy "-YouTuber made fun of ASMR. I couldn't understand his reaction because I found the concept of the video totally cool. When I clicked through YouTube and saw how many ASMRtists and videos there are, a whole new world opened up for me.
.
That's how I discovered my passion as an ASMRtist
I wanted to try it out myself. Subsequently I bought a microphone, turned on the webcam and just started. I was incredibly happy when my videos really caught on. It's great to see that I can help people who for example have problems falling asleep or who are going through a difficult time in general. The feedback and the constant exchange with my viewers is a point that I would never want to miss.
.
ASMR – What is that?
.
ASMR stands for "Autonomous Sensory Meridian Response". ASMR is described as a tingling experience that typically occurs over the scalp and neck to the shoulders and creates a feeling of well-being. This tingling is mainly triggered by noises, quiet voices or whispers, attention or slow movements. (Synästhesie-info)
.
This is how digital relaxation can succeed
I think it's very important to have a relaxed and calm attitude in order to help other people relax. Most of the time, calm and slow speaking relaxes by itself. Also, of course it's great if you can put yourself in the audience's shoes and thus roughly know which sounds you have to make and how, so that they sound good and are conducive to relaxation.
To relax after an exhausting working day all I need is a warm blanket, headphones and a good ASMR video. This really helps you in many situations.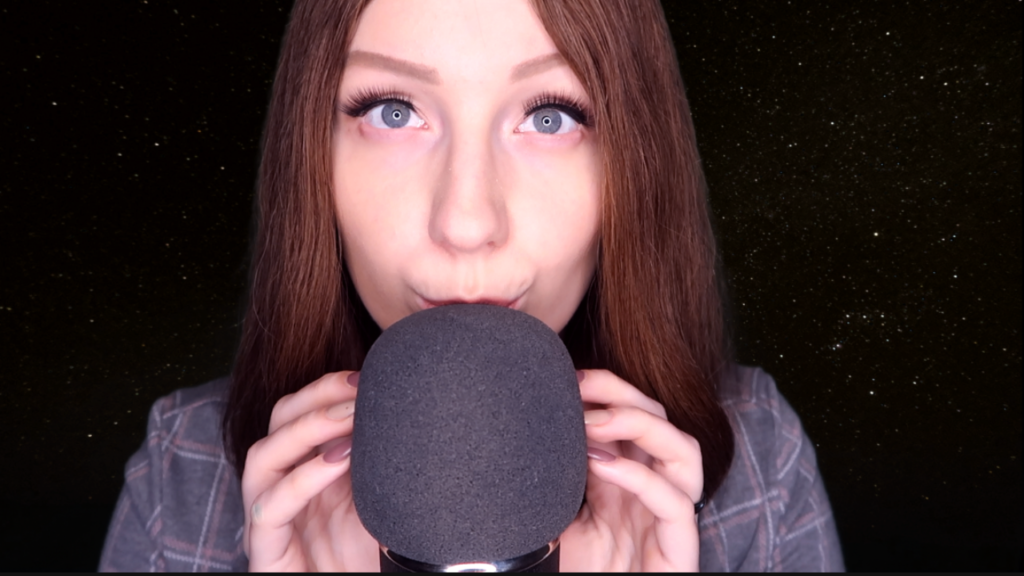 The Kyōō – Yoga for the ears
Michaela (37 years) has been hosting the podcast "the kyōō" together with her partner Ann-Kathrin since 2019. Every two weeks, the two publish an interview with experts from the wellness and health sector. Michaela lives and works as a freelance brand consultant and yoga teacher in Berlin.
.
We have a lot of questions about life
"In fact, hosting a podcast was almost for completely selfish reasons. My podcast partner Anni and I had and still have many questions about life. To find the "right" answers, we need experts who can answer our questions. We didn't want to be that selfish after all and decided to simply share the questions and answers in a podcast with everyone. The kyōō is about cues. We hope that with the kyōō we can not only accompany the listeners in their lives, but that we can get our questions answered together. Last year, doing the kyōō we also started to produce our own mantras and accordingly we are organizing regular meditation challenges. The feedback is simply the nicest, but in the end, we can only help to get started. Unfortunately, everyone has to practice themselves.
.
This is how my passion for yoga became my profession
I discovered my passion for yoga almost 20 years ago, after my second or third yoga class with my teacher at the time. I can't say exactly what it was specifically then. Even though it sounds like I'm an old woman, everything was a little easier back then. It wasn't about showing fancy poses on Instagram yet. Nobody was wearing Lululemon Pants. We were just there, following our teacher's instructions, and didn't go on to the next course until we had practiced enough. It wasn't about being something that we weren't yet. It was much more about the holistic development of body and mind and that is what my work is still about today.
For me, yoga is the way from the outside to the inside. The connection of body and mind and thus the direct way to my inner connection. Yoga is the way to myself."
If you are also interested in Michaela's podcast, you can find it on the kyōō.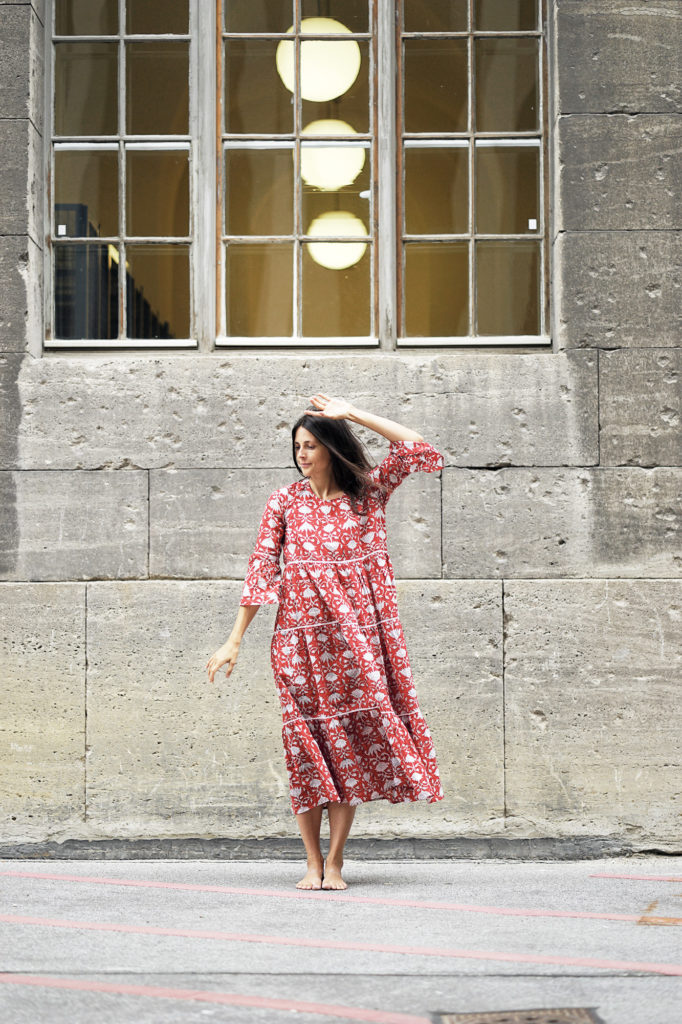 intombi Anna is practicing yoga with her best friend via Skype
.
"My best friend Charlotte and I used to skype because we live too far apart. The idea of practicing yoga together came out of boredom. But it turned out to be really funny and fun – precisely because we couldn't do some things and then laughed together. Unfortunately, we don't have time for this anymore. But I would advise anyone who wants to laugh with their best friend to do it, especially if you are not very talented at yoga." (Anna, 17 years from Hürth)
7Mind – mindfulness and meditation with your smartphone
Digital relaxation with one app. For example, 7Mind can help with that. It is an app for meditation, and everything related to mindfulness. The app was founded in 2014 by the students and friends Jonas Leve and Manuel Ronnefeldt. In the meantime, the company consists of 43 employees working together in Berlin to make the world a bit more attentive and relaxed. The app has already enabled over 1.6 million people with their first steps into meditation. 7Mind enables its users to relax digitally in seven minutes through meditation, relaxation techniques and mindfulness exercises.
.
MINDFULNESS IS A GENERIC NAME FOR TECHNIQUES THAT CONSCIOUSLY DIRECT ATTENTION AT THE PRESENT MOMENT, WITHOUT EVALUATING IT. THIS WAY, WITH REGULAR EXERCISE, THE BRAIN LEARNS TO FOCUS MORE EASILY AND TO BE DISTRACTED LESS. 7Mind

7Mind
The intombi-office team tested it
Valentina from the intombi team has already done one or two meditations with 7Mind. "I find it particularly nice that as a listener I understood meditation step by step and that in the end it wasn't as complex for me as I thought before. The cool thing is – everyone can do it. The hurdle is to get involved. But it's definitely worth it!" Just check out your app store. There, you will also find many other apps on this topic.
.
Photos: 7Mind
Passion – contest: Unfollow! by Nena Schink
.
What's behind the glossy influencers and what additional value can Instagram offer and how do you get away from an Instagram addiction? This is what the author Nena Schink (27 years) has dealt with. She describes her own Instagram missteps in the hope that her readers will recognize themselves. She lets readers dive into the world of influencers and reports on her sometimes bizarre encounters with influencers in reality. Finally, she questions her own Instagram behaviour with her readers and gives valuable tips for dealing with Instagram.
This is how you can win the book "Unfollow!" by Nena Schink. Answer the following question in the comments and you're in the lottery pot:
Which account offers you additional value on Instagram?
Appropriately, the publisher Eden Books has put together 7 tips for you on how to waste less time on Instagram.
You can participate until Thursday, November 27th, 2019 – 1:00 p.m. The winner will then be selected at random and contacted by message. Fingers crossed. Participation is possible from the age of 14, legal recourse is excluded. The prize can only be sent to an address in Germany.
.
How do you relax best? Do you use any aids?
.
This article determined unpaid and unsolicited advertising.