.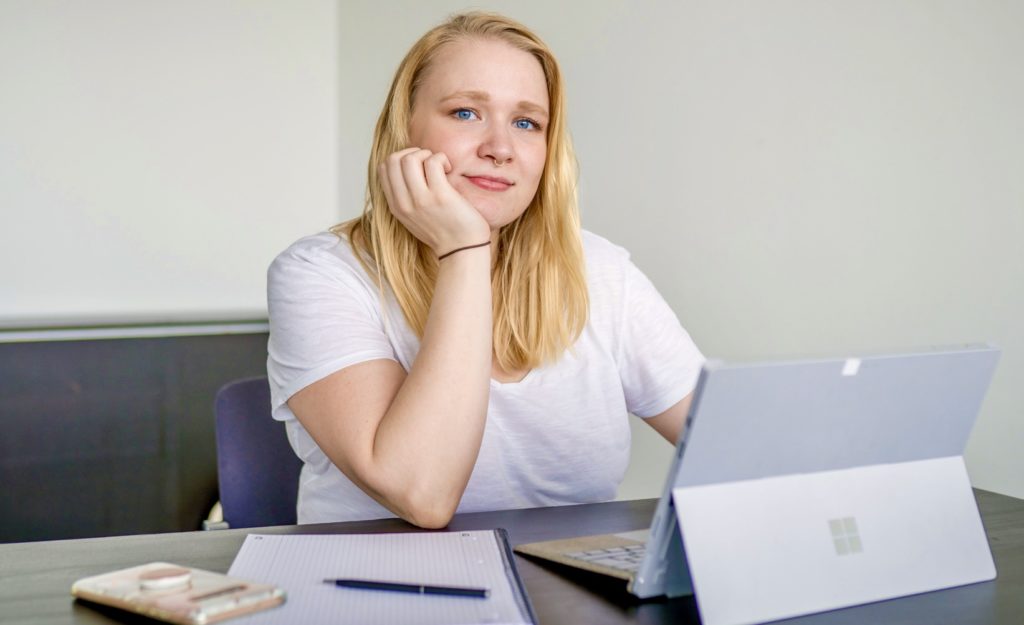 Would you prefer to continue being taught at home? Or, like Anna, are you looking forward to finally going back to school? Slowly, the schools are switching back to normal operation. But how does that look like for the future? Back to usual everyday life? Truthfully, the sudden digitalisation of the schools has worked out quite well. At least more or less. So how about rethinking school? The timing couldn't be better!
Back to School. Anna's new everyday school life in times of the Corona crisis
Now it is time again! Well, at least for a while. The school has started again sporadically and Anna (17 years old from Hürth) is also going back for the subjects in which she still has to write an exam. But there are still strict requirements and distance regulations. "The courses are divided into two groups, so that the minimum distance can be maintained in each room. We also have to go through the different entrances into the school building. And, of course, masks are compulsory ," explains Anna. "In the classroom, however, you can take your mask off at your own table. In addition, ventilation is still provided at good intervals. In any case, the situation is very unusual and strange, but all in all, everyone is happy to see each other again," Anna assures us. In the last article, Anna has also compiled her learning and tips from home schooling for you.
.
intombi for girls – Who are we?
👉 We are also interested in your story! In our #girlsforgirls Online Passion Magazine we introduce you every week to exciting and super strong young women, projects and important tips all around a passion. We call this week – PassionWeek!🤩 Girls and young women volunteer to write for each other about future dreams, challenges and give practical tips to inspire and support each other. For a successful start into the future – according to our motto #girlsforgirls! 👭💕🌍 Get in touch with us and become the author of your life story – info@intombi.de
#WeforSchool – Designing the school of tomorrow with Verena Pausder and Dorothee Bär
For many of us it will probably remain like this for a long time to come – teaching partly digitally from home and only slowly back at school. But if digital education is to be the future, it must be accessible to all. The fact that exactly this is not working at the moment has been clearly shown by the homeschooling situation during the Corona crisis. Because until the sudden MUST, due to Corona, digitization in Germany and especially at the schools was rather lame. Right? Maybe your school already had a computer room or a smartboard instead of a blackboard, but I'm sure you know the kind of teacher who until recently didn't even have an email address. And then suddenly everything should and had to work digitally!?
Rethinking school – A digital future for all
Fortunately, this somehow worked – to the great astonishment of many. But not everywhere and not for everyone, digital education is doing so well. And let's be honest, it can't go on like that in the long run. Or what do you think? But the fact is, school and education will probably remain digital for a longer time, at least partly. So how can the school of the future be designed in such a way that everyone has the same opportunities and we can make the step into the digital school age together? This is exactly what Verena Pausder (41 years old), initiator of the #weforschool Hackathon and co-founder of the Initiative Bildung für Alle e.V., is trying to find out and tackle. Our Minister of State for Digital Affairs, Dorothee Bär (42 years old), also has ideas and demands on what the education of tomorrow could look like.
The school of tomorrow – Demands of the experts
.
1. Maintain one day of Homeschooling "I advocate retaining a homeschooling day to keep the digital world we have just got used to alive. We should not stop this learning experiment again," says Verena Pausders. (WELT)
2. Laptops for all students The lack of technology leads to more social inequality of educational opportunities. "We must not forget that two and a half million children have achieved nothing at all in the last twelve weeks because they had no computer, printer or mobile phone contract with sufficient mobile data," says digital expert Verena Pausder (41 years) in a WELT interview last week. She is in favour of simply distributing the money to be provided by the federal government for the so-called Digital Pact for Schools to all schools in an uncomplicated way. Each school could be given around 115,000 euros for equipment, which would then be lent to students who have none at home. (WELT)
3. Online already in kindergarten "Education is no longer conceivable without digital education," assures Dorothee Bär in an interview with the Handelsblatt. It is convinced that digital education should start in kindergarten and that "digital literacy" should be introduced as a compulsory subject in primary school. According to her, this is the only way to ensure that we can all find our way in the digital world in the future. In this way we can learn to master the benefits of digitization instead of being dominated by the dangers of the digital world. (cf. Tagesspiegel)
4. Dismantling the curriculum Verena Pausder would like to see the curriculum cleaned up and some of the pressure on the students removed. "We need more cross-curricular teaching in which teaching content is taught together in projects. In my view, this will not lead to less general education, but rather to more realism in schools – and to mature children whom we train for the world they will also come into contact with after school," she explains in the WELT interview. (WELT)
What do you think of these ideas? How do you see things as a student? And maybe you yourself have some constructive comments for a positive development and a new school? Feel free to write your opinion and suggestions in the comments below.👇
.
With these 3 tips you can also become active for more
equal opportunities in education in the short term
Share your knowledge Offer your help to friends who are not doing so well on their own at the moment and meet up to work and learn together – whether digitally or in the meanwhile personally again.
Share your technical equipment Once you have completed your tasks, you could make your equipment available to classmates, or for a period of time in which they can use it to do their work.
Help your classmates with difficult tasks or technical challenges that they do not understand. Maybe through your Whatsapp Group.
* This article contains unpaid and unsolicited advertising.