.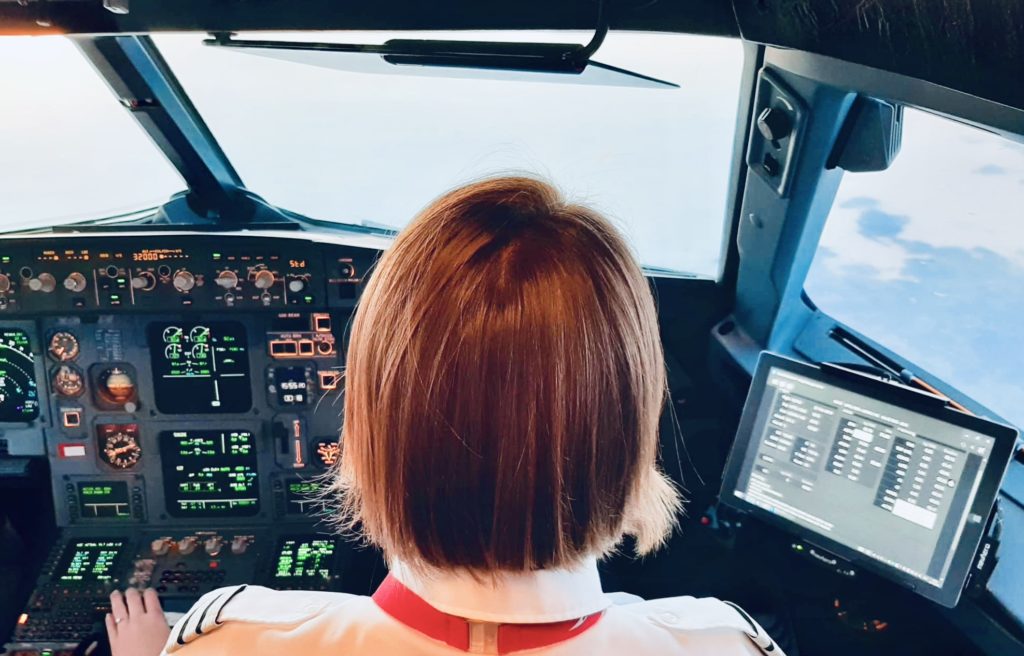 .
We can reach our goal in many different ways. It doesn't matter if we talk about a destination which we are heading for physically or to a goal which we set ourselves and want to reach mentally. In this PassionWeek you will learn from four women how they give everything to bring people and finally themselves to their goal.
.
.
This flight changed Anne's life.
On the way back from a student exchange in France, Anne, 24 years old from Vienna, was sitting in a plane looking out of the window. "I saw the clouds and the landscape pulling under me and all this bathed in pink tones from the wonderful sunset in the background. And I thought about what it must be like to see this every day. That's when I finally decided to bring my silent dream to life and become a pilot.
One year after graduating from high school, I completed a pilot training course, which I started parallel to a dual mechanical engineering course. The dual study was my plan B, if I should have the possibility to fly later due to health reasons. I liked my mechanical engineering studies so much that I continued to study for my master's degree during my training as a pilot until I started working in the cockpit at Austrian Airlines last year. I would never have had the idea to study mechanical engineering on my own, so this was a happy coincidence.
.
No two days are the same
I love my job because every day brings something new that inspires me, be it a wonderful sunrise, seeing the Alps from a height of ten kilometres or an enriching encounter with another person. Moreover, no day is like the other, the working hours, the weather, my destinations, everything changes constantly.
In the beginning, however, I found it a little intimidating to be one of four women during the whole course of study alone in the class in the flight school. Because that's what always makes you stand out. Just like I still attract attention when I go to work in uniform. Relatively at the beginning I decided not to regard this as a negative point, but to make the best out of it. Yes, I attract attention, but due to that I wasn't just a number during my studies, instead people knew who I was.
.
With my uniform I would like to encourage other girls
When I go to work, I hope that many young girls see me and realize that a pilot can also be a career path for them. And as the saying goes: you grow with your tasks. I wasn't self-confident when I started either, but you learn and develop and that's the beauty of life," Anne says.
.
Anne´s #girlsforgirls Tip
#likeagirl: Be proud to be a girl/woman! And don't ever let anyone tell you that you can't do anything just because you're a girl. Yes, we do some things differently than our male counterparts, but that doesn't mean it's better or worse. It's just #likeagirl and that's good, because that's where we are!
.
.
Stefanie's passion takes place on rails and is responsible for the safety of many people.
Stefanie also brings people to their destination on rails, but she is not on rails herself. "My work ensures that trains arrive safely and punctually at their destination. I'll tell you how I do it this: I am passing an apprenticeship as a dispatcher and navigate trains safely and punctually through the rail network. This includes regulating the sequence of trains and setting the points and signals. Just like in car traffic, trains and train drivers have to follow certain speeds and signals. And let's pretend in the signal box," says 21-year-old Stefanie from Cologne.
.
I kind of slipped into this profession
"After I finished school, I wanted to do an apprenticeship as a hotel manager, but I soon noticed that I didn't like the profession and changed to a school apprenticeship as a media technology assistant for geovisualisation, where I could also do my vocational baccalaureate. After I finished my apprenticeship I was faced with my next problem. I wanted to continue working in this field, but that would have required many years of professional experience or a bachelor's degree. I would not say that the three years were a wrong decision because I made my vocational baccalaureate. Nevertheless, I was looking for an alternative and found it at Deutsche Bahn.
.
My everyday life is characterized by a lot of responsibility and fast rulings
I didn't know the occupation of the dispatcher before and I have to say that it is versatile. I have a lot of responsibility, because I have to make decisions under pressure and calmly, and I also have to act. I also have this responsibility towards many people, whom we all want to bring safely to their destination.
.
.
Technical know-how and shift services are part of my dream job
When you start this training, you should also be prepared to work on holidays and weekends as well as to work in early, late and night shifts. It's also possible that outsiders may sometimes make jokes about the job or make comments about it, but if you take it with humour, it's not as bad as all that," says Stefanie about her passion.
.
.
Hannah accompanies people to their destination
Hannah (24 years old) from Cologne has always been interested in the big wide world. My passion is to enable people to get to know distant countries and cultures. My heart goes out when someone asks me for travel tips. I get people to their destination, among other things through the right advice. "Passion was clear – but where could I learn more about how to live it? That's why I first started studying geography. But that wasn't the right thing to do, so I dropped out after one semester. University doesn't really suit me because it's too theoretical for me.
My training as a tourism clerk – a direct hit
Then I started my search for a suitable training in the field of tourism. I didn't like the tasks of a hotel manager, but "Tourism Management Assistant for Private and Business Trips" sounded really good. After all, I was offered to start an apprenticeship in combination with a place at a vocational school (Alfred Müller Armack Berufskolleg Zollstock).
As a trainee at the tour operator SKR Reisen Studiengruppenreisen, I organized and coordinated individual and group trips to almost the whole world. I was enthusiastic about my tasks, which included putting together trips, maintaining contact with local agencies and tour guides, having a lot of customer contact, operating the flight booking system and knowing a lot about all possible countries in the world.
.
I tell you quite differently about the respective country, if I have ever been a place
I particularly liked the area of "private travel/individual travel" when, for example, partners visited us, and we held joint workshops. Or even better: I was allowed to travel myself to get to know countries better. This included trips to China, Sri Lanka and Costa Rica. If you were there yourself, questions can be answered much better. I tell a completely different story about a specific country when I've been there and gained my own experience. It is especially nice when the customers like the trips and they report back what they have seen, for example by sending pictures from on the way.
It was simply a mega cool, albeit stressful and demanding education. I was given responsibility right from the start, which I liked very much. It was also the right training for me because I am very communicative and always enjoy talking to customers.
.
My next goal: Become a business economist
Today I continue my education and deepen many topics of my education at the Cologne School of Tourism. I become a business economist and learn a lot about business administration. I also have a number of tourism subjects, such as spa and bath management. I learn a lot about countries, traffic, tour operator management, travel agency management and travel law.
What I will manage later is written in the stars. The tourism industry also has its downsides, the payment is often inappropriate. Nevertheless, I am sticking to my passion and will continue to at least advise my friends on travel in the future. Because in the last few years I have been talking so much about countries my passion has even intensified, distant countries simply remain my passion.
But I have also discovered a few other passions, such as sustainability or start-ups. In these areas, there is certainly also the need to support people in reaching their goals and who knows, maybe that will be my job," Hannah tells us.
.
Photos: Hannah
.
Eva allows people freedom on wheels
Some years ago, Eva Susanne Schmitz (social worker, 37 years old, from Cologne) had a broken ankle and could not ride a bicycle for six months. During this time, she realized how important cycling was to her and how important it was for her life. "I particularly like the bicycle because it is a means of transport for everyone: Nobody is excluded, as well as everyone can afford it and it is easy to learn cycling.
Already for some years I bring people to three different destinations with the help of the bicycle:
.
I bring people to their destination by bike
In our bicycle workshop and our bicycle station, parking garage of IN VIA, Cologne citizens or commuters who have problems with their bicycle stop by. Our employees repair the bicycles with the help of instructors. A master makes the final check with each bicycle afterwards before the bicycle is handed over to the customer. As we are a non-profit organization, we offer our services at a lower price than the usual market price. We also repair wheels that would not be repaired by other workshops, because from their point of view it is no longer worth it.
.
I bring people to their personal goal.
My passion is to get people to their destination. I do this by helping people who finds themselves in way over their head and don't know where to go. I support them in reaching their goal, for example through debt counselling, organizing an apartment and generally becoming independent again. In the cycle station where I work as a social worker, people get the chance to "get back on track" through their cooperation. Often addictions such as drugs or indebtedness belong to her problems. Some could no longer pay for their flat and became homeless.
At Radstation we give these people an opportunity to work with us. Here we are working on minimizing barriers for access to the first labour market. The employees in the company relearn to know an everyday structure, since they often did not have a job or a regular everyday life for years. The loneliness and isolation of people are usually the biggest problems. In the bike station we get the employees connected and make friends.
.
Our employees also achieve their goals
The employees are slowly but surely getting closer to their goal by learning something new every day. For example, they learn how to change spokes or wheels in our workshop. They also recognize that everyone has its qualities and not everyone has to be able to do everything. They all complement each other and support each other, that's what matters. The employees stay at the bike station for between six months and two years. The former employees also continue to visit us, for example at our annual Christmas party. 95 % of our employees are men, women usually have less interest in a corporation. They often argue that the work here is physically too difficult for them.
.
I support women in their freedom.
Myself, I cycle a lot and have my own cycling school. Here I teach women with a migration background how to cycle, mostly within 15 lessons. Most of them come from countries where it is unusual, frowned upon or even forbidden for women to ride bicycles. With my cycling school, I not only enable these women to master their daily transport routes quickly and inexpensively, but also support them in getting closer to their goal of living in freedom.
I am also on my way to a new personal goal. I have started my studies: Social pedagogy and Management at the Fachhochschule des Mittelstands (FHM). Hereby I would like to learn new and finally even better to help people achieve their own goals," says Eva Susanne.
Radstation Köln – This place means freedom
IN VIA's Cologne bike station takes people by bike to their destination. These people are very different customers:
The Radstation multi-storey car park has a thousand parking spaces where bicycles from Cologne can be parked. The employees look after the bicycles while the customers are at work, for example.
In addition, 10,000 to 12,000 bicycles a year are lent to tourists. They come from the local area or from all over the world. They are given the opportunity to explore Cologne by bike.
At the bike station the employees get connected and make friends. Everyone enjoys coming to the workshop and spending time with each other. For example, the employees organise bowling, cycle excursions and support each other, for example in case of a relocation. This is always referred to as the bike station family and the togetherness is also lived.
.
.
Passion raffle –Win a personal travel diary.
"I never travel without my diary. You should always have something exciting to read with you," Oscar Wilde once said.
Diaries allow us to revel in memories for years and to remember great experiences that we would have forgotten long ago without the recording. Answer the following question and you'll be there.
What was your most beautiful destination?
You can participate until Thursday 08.11.2019 – 16:00. The winner will be randomly identified and contacted by message. Participation is possible from 14 years of age, legal recourse is excluded.
*This article contains uncommissioned advertising.
.
Have you ever brought someone to his destination? How do you get to your goals?
.