.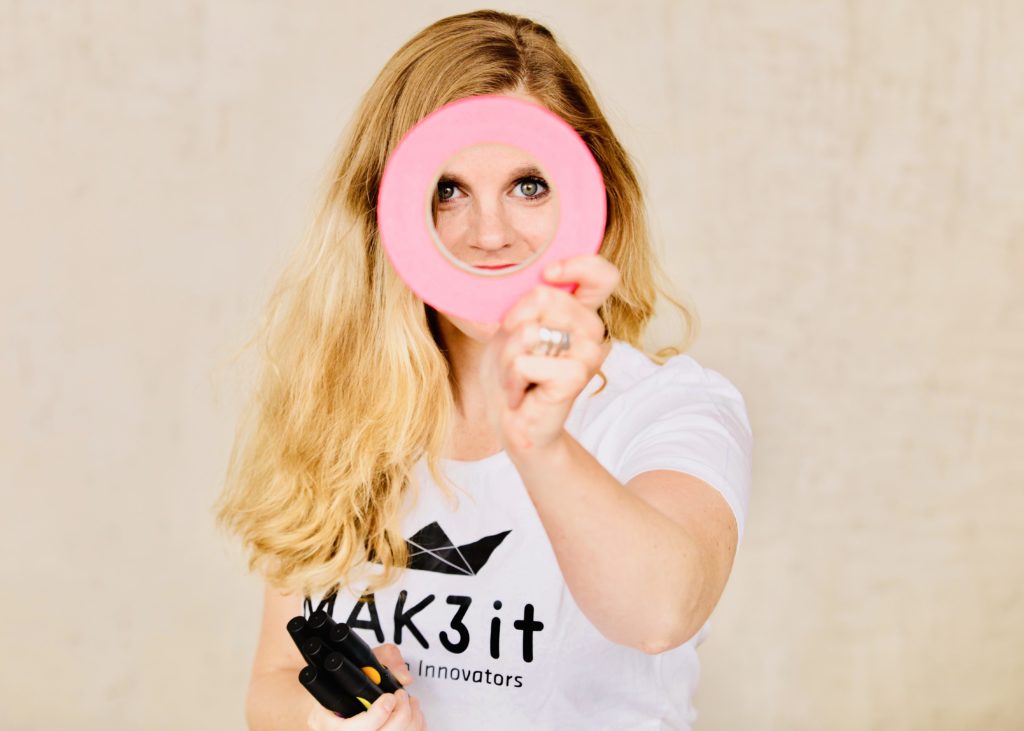 .
Start your own company – have you ever thought about it? This #PassionWeek might trigger new future dreams inside you!
There were only four weeks left until the final. We had an idea for our startup, nothing else yet in our hands. But the idea that came to us changed everything.
I am Karo from Deidesheim, 19 years old and managing director of my own company.
.
Nothing stood in the way of implementing my idea. Almost nothing…
After we made it to the final of the STARTUP Teens competition with our idea, it was clear to me: I will put this idea into practice! With this attitude we earned the second place. But the two guys, who were enthusiastically involved in the beginning, left our team and the lack of start-up capital was also a huge difficulty. Unfortunately, in the Startup Teens competition only the winner receives a prize money. That is why after the competition I left school and started a vocational education to get the money for the foundation of my startup by myself. By the way, next year I am going to do my high school diploma via an external exam.
The organisation STARTUP Teens offers a lot of input and an inspiring environment in which I could learn a lot. I received a lot of positive and constructive feedback to develop my ideas further. Below you will find more information on how you can get support.
.
My startup is a smart problem solver
What I enjoy the most is always adding something new, until step by step a clearer picture of my idea is formed. So, I founded my startup "Puzzle Möbel" – a climate-neutral furniture company. Never again screws and warped wood! In addition, it is also completely manufactured in Germany. The modular furniture rack can be assembled and disassembled in minutes and can be extended as required.
But what exactly is a startup?
"A startup is a company foundation with an innovative business idea and high growth potential. The founding of a startup means freedom, the opportunity to shape and form and self-responsibility, but of course also a lot of work. Once you have found a solution to an existing problem and gathered sufficient information to build a business model on it, you are ready to go," says Jules Banning from the start-up hub STARTPLATZ.
.
Women are absolutely underrepresented in the founder scene
Only four percent of all startups are founded by women. Even though women are more often co-founders with men, they are clearly underrepresented. Petra Göbbels from the Cologne Chamber of Industry and Commerce (IHK Köln) speaks from experience: "Although women are less likely than men to start a business, they are more successful in the long term. Currently it is a really good time to found a business since there is a multiplicity of neutral consulting institutions and public funding programmes that support female founders. The advantage of self-employment is that you can make your own decisions and pursue your passion in a self-determined way. You simply know in the morning what you are standing up for". Further information about support possibilities of the IHK Cologne can be found here.
.
.
With their startup Lea and Melanie have found a solution for a big problem of many women
Just like Karo, Lea (24 years old) founded the underwear platform Brajuu in Cologne together with her co-founder Melanie (31 years old). Both got to know each other in the founder inside camp of Grace Accelerator and founded together a Startup, which will change the life of many women. "With self-developed algorithms and a short quiz, we recommend women perfectly fitting underwear from various manufacturers, which can then be purchased via an affiliate link in online shops such as AboutYou. But we do not just want to help women get perfectly-fitting bras, we want every girl and woman to feel comfortable in her body," Lea explains.
.
It has always been my big dream to found something.
Lea has always been enthusiastic about starting a business. "I love exchanging ideas with people, evaluating and implementing them: It has always been my wish to work self-determined and independently – my big goal is to be self-employed or the foundation of my own company. In addition, the will to promote innovation, digitization and entrepreneurship in Germany is a great driving force for me," she adds.
.
In difficult moments, I also wished for an economically secure life
"Of course, starting a business does not only have advantages and is marked by some highs and lows – a pure roller coaster ride! With the foundation of a company you take a high risk, money is tight, you have to spend a lot of time and work – "24/7" rather than "9 to 5″. So, there were already some situations in which I had doubts whether the decision to go for a startup was the right one and instead going for an employment first. But the previous experiences, the various positive feedbacks and the will to found clearly outweigh each other, so that I am happy to have chosen this exciting path," says Lea.
Natalie started a startup to show others how to do it
Natalie (29 years old) from Cologne not only has founded one, she has even founded two startups. First part-time – today full-time. With the Startup School she shares her experiences and her knowledge around the topic "foundation" to other new female founders. Natalie speaks about the special thing of the Startup School: "Besides sharing my own knowledge, I also interview many startup experts and long-standing entrepreneurs. I learn so much myself. In addition to my podcast, I use other social media channels such as Facebook, Instagram, Linkedin and Youtube. Startup School already introduces children and young people to personality development and business foundation. They are offered such great added value and get to know different ways than just the one their environment has chosen".
.
Capturing the important moments and sharing the joy of others is Natalie's passion.
With her second startup Capskeeper, she has developed a time capsule. "At some point I realized that I could really improve other people's lives with these ideas. I love rituals. One year on New Year's Eve my friends and I wrote down our New Year's resolutions and hided them. Unfortunately, when we wanted to review them next year, nobody found them again. I thought how wonderful it would be to receive them a year later by post as a very personal and valuable gift." Thus, Capskeeper is a guardian and bearer of personal moments in life, messages, goals, wishes and dreams!
.
.
Passion tip: Karo by Puzzle furniture has tips for prospective founders:
In the future I would like to write more about my experiences and support young female founders on their way. I have learned from my mistakes and I would like to pass on this experience. For example, I did not dare to ask for help at the beginning and therefore had to pay dearly, especially in marketing. Meanwhile I have no more problem with that. In the meantime, I have contacted a foundation that has connected me with a patent attorney with whom I have legally filed my utility model.
1. Just start! As a founder it means learning by doing. Just start and trust yourself that you will be able to meet the challenges ahead.
2. Ask for help! The other founders know the challenges of starting a business and are happy to help you on your way.
3. Take part in the next challenge of STARTUP TEENS.
4. Do not let setbacks get you down.
.
Diana zur Löwen gives girls courage to use their potential
"There are still more boys out there. And that is a shame, because the girls have of course also a great potential. That is why I am trying to find out why. I am not a fan of generalizations, but unfortunately girls are often a little more uncertain. For this reason, I also do events for women to give them more courage and support them with new ideas and to accompany them. That is close to my heart." Diana zur Löwen comments in Welt.
. .
Passion-Event: intombi is also a (social) startup – learn more about it at this event:
Wednesday 30.10.2019 at 6 pm: Alexandra Potratz, the founder of intombi talks at the fe:male Founders Circle about financing rounds in the social and commercial sector. This series of events will bring together founders and experts from the digital and innovative sectors to talk about future topics. Be there, participation is free, you just have to register here.
.
Passion Tip: Here you will be supported in realizing your future idea.
If you are also interested in startups, the following tips from Lea will help you: Get information from the startup scene, visit pitch events and Meet-ups on the subject of entrepreneurship, see what your university has to offer in the field of entrepreneurship. Or apply to the Grace Accelerator. There are now many ways to get in touch with entrepreneurs – this will help you immerse to dive into the startup world.
STARTUP-TEENS supports young people in realizing their ideas for the future.
STARTUP TEENS helps you to turn your idea into a company free of charge. Prominent mentors, such as Diana zur Löwen or Philipp Lahm advise young people between the ages of 14 and 19 and motivate them to take part in a challenge to win starting money for their own startup.
.
.
.
This PassionWeek defies girl power – when will you start your own startup?
In this #PassionWeek you were introduced to three strong founders. Their founding ideas could not have been more different and that is exactly the great thing about starting your own business. There are no limits and there will always be someone who can help you with your idea. Have courage and live your passion. Lack of sleep and stress are nothing against the elation that will await you in the realization of your dream.
.
Passion raffle: GIRLBOSS raffle – We raffle a startup package
Take part in the competition and win a unique startup package. Comment on what you liked most about this Passion Blog post and you are in.
Book #GIRLBOSS by Sophia Amoruso & Capskeeper Necklace by Natalie Brüne
About the book: >>How I created the fashion empire Nasty Gal from an eBay shop.
You can participate until Friday 25.10.2019 – 12:00 o'clock. The winner will then be randomly selected and contacted by message. Thumbs are crossed. Participation is possible from the age of 14, legal recourse is excluded.
* This article contains unpaid advertising.
.
Which startup appealed to you most? What kind of startup would you like to start? Leave us a comment.
.
.