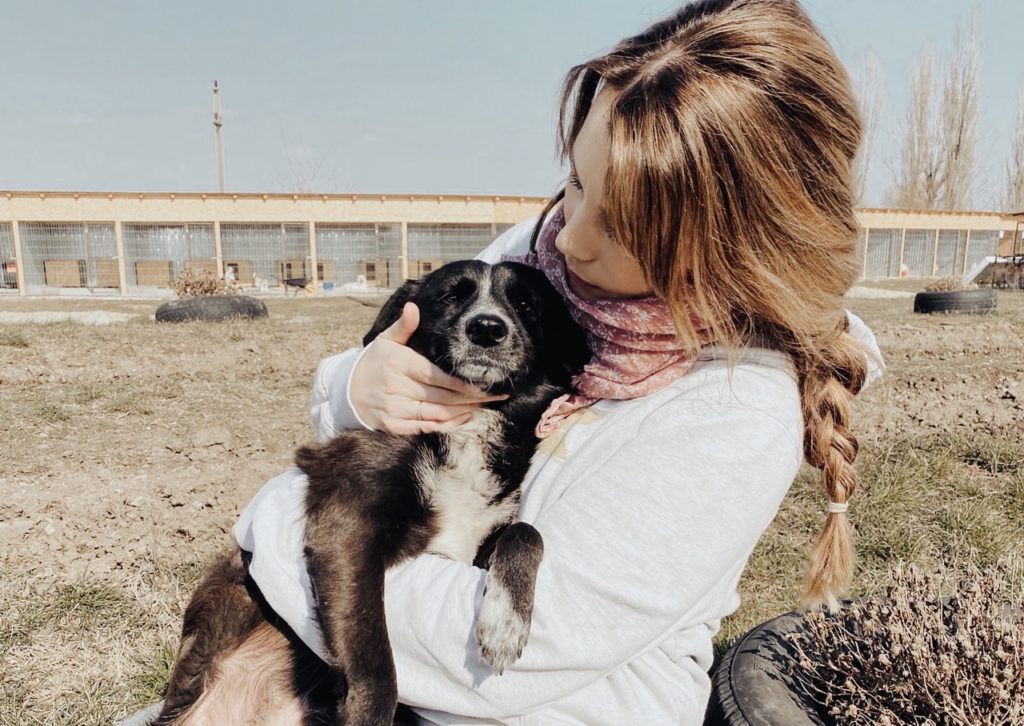 Do you want to work for animal welfare? But you don't know how? Sonja gives you 4 valuable tips. Furthermore, in our interview she tells you why she founded her animal protection organisation Hearts4Paws e.V.
Hope for a better life – Hearts4Paws e.V. gives street dogs and cats a new home
"My husband and I moved to Bucharest, Romania, for his work. I came to animal welfare in the classic way, like a virgin to a child. I had to go to the doctor with our two cats, which we had brought with us from Germany, because they had to be re-vaccinated. This is how I got to know Adina, the veterinarian and founder of the OneRescue Association, and her work. I felt the need to help and find a nice home for a few animals", tells us Sonja (34 years, from Heilbronn).
A project from the heart becomes a passion
Sonja and a group of volunteers are committed to the Romanian animal welfare through the Hearts4Paws e.V. initiative she founded. Her initiative mediates for the OneRescue Association rescued animals from the street out of a private shelter in Cosba to Germany. Shelter is another word for animal home. Sonja lived in Romania herself from the beginning of 2017 until the end of 2019 and was on site at the shelter almost every day, so she knows all the animals and their living conditions and stories. Meanwhile she lives in Germany again, but still visits the Shelter monthly to be close to the animals.
This work is only possible with a team full of power women
"In the meantime, I am no longer actively involved in the mediation, but I have Elena (dog department), Marianne (cat department) and they each have their girls who do the mediation of the dogs and cats.
I myself now take care of administrative things like answering e-mails and social media. I write protection contracts for the dogs, take care of the finances together with Elena and maintain our lists and tables. I also write the departure lists for the transport company every week and coordinate them with the veterinary office responsible for us. If I am at the shelter one week a month, I practically bring work with me for the rest of the month," laughs Sonja. "I edit the videos of the individual animals, pull out pictures for the homepage and pass on my character assessments of the newly filmed animals to my girls.
intombi for girls – this way you too can be part of it!
👉 We are also interested in your story! In our #girlsforgirls Online Passion Magazine we introduce you every week to exciting and super strong young women, projects and important tips all around a passion. We call this week – PassionWeek!🤩 Girls and young women volunteer to write for each other about future dreams, challenges and give practical tips to inspire and support each other. For a successful start into the future – according to our motto #girlsforgirls! 👭💕🌍 Get in touch with us and become the author of your life story – info@intombi.de
Public relations, administration and relationship work are part of my everyday life at the Shelter
My daily to do's consist of posting stories on Instagram, filming for the YouTube vlogs, and new animals for mediation. Additionally, there are pictures and updates of already registered animals for the homepage or for the adopters who are already waiting for their animals. I also help Adina with the treatment of the animals and I always try to spend as much time as possible with the animals to be able to assess them well and to break the ice between humans and animals at one point or another. 😊
The challenge? Not to lose courage and hope in the face of all the ills
Animal welfare work per se brings with it a lot of sadness and frustration, you just have to learn to deal with it. Whenever you think you have seen it all, you see even more suffering and shocking fates that you can only shake your head over. But in fact, you also become a bit blunt and learn to deal with it and to set yourself apart. You can't take these feelings with you to bed every night, you have to be able to switch off.
Every saved life and every adoption compensates for all the frustration
What then helps best are the countless videos of happy adopters and their animals. We sometimes still get videos of our animals after two years and can see how well they are doing. That simply compensates for everything. You must realize that you can never save them all. But those that have been helped into a new home are always worth continuing. Every transport to Germany, on which animals from us who are travelling to a new life are sitting, is compensation for everything," Sonja assures us.
This way you too can get involved in animal welfare! Sonja's 4 tips for you:
"The possibilities are indeed limitless. Anyone who wants to actively do something has many opportunities to do so:
1. Also in Germany many animals need help You can get involved in animal welfare everywhere! You just have to open your eyes and you will see that here in Germany there is animal suffering on our doorstep too. If you walk through the city centres of Germany, for example, you will see many injured pigeons. You can start directly there. A pigeon is also an animal that needs to be protected and there are now bandages almost everywhere that help sick and injured pigeons.
2. Support your animal shelter around the corner Every city has an animal shelter. If you cannot take in an animal from the animal welfare department yourself, you can support the animal shelters. Either by donating food from time to time (they are always happy about any donations they receive) or by registering as a pet walker for the dogs, for example.
3. Clarify! You can also get involved by informing. Everyone knows people who have a cat that suddenly comes home fertile and then has to litter. You could try to talk to them and explain that it is better to neuter the cat because there are already enough kittens in the world. Or those who say: "I'd love to have puppies from my dog." You can also actively counteract this by asking whether that is necessary? Because each of these new-born animals deprives an animal that is already waiting for a home in some animal shelter or abroad of the chance to be adopted.
4. Support Hearts4Paws You can help us, for example by becoming a member or animal sponsor and thus help us financially. Or you can also contact us if you would like to carry out preliminary checks on potential adopters. This way you can make sure that the dog or cat will have a good time in their new home and get to know the adopters on our behalf."
Our office dog Janosch also comes from the animal welfare sector. He is now walking very happily through his life on three legs and is certainly glad to leave his difficult past behind. Here you can find out more about his history.
* This article contains unpaid and unsolicited advertising.
Have you ever been active for animalwelfare? Tell us in the comments!