.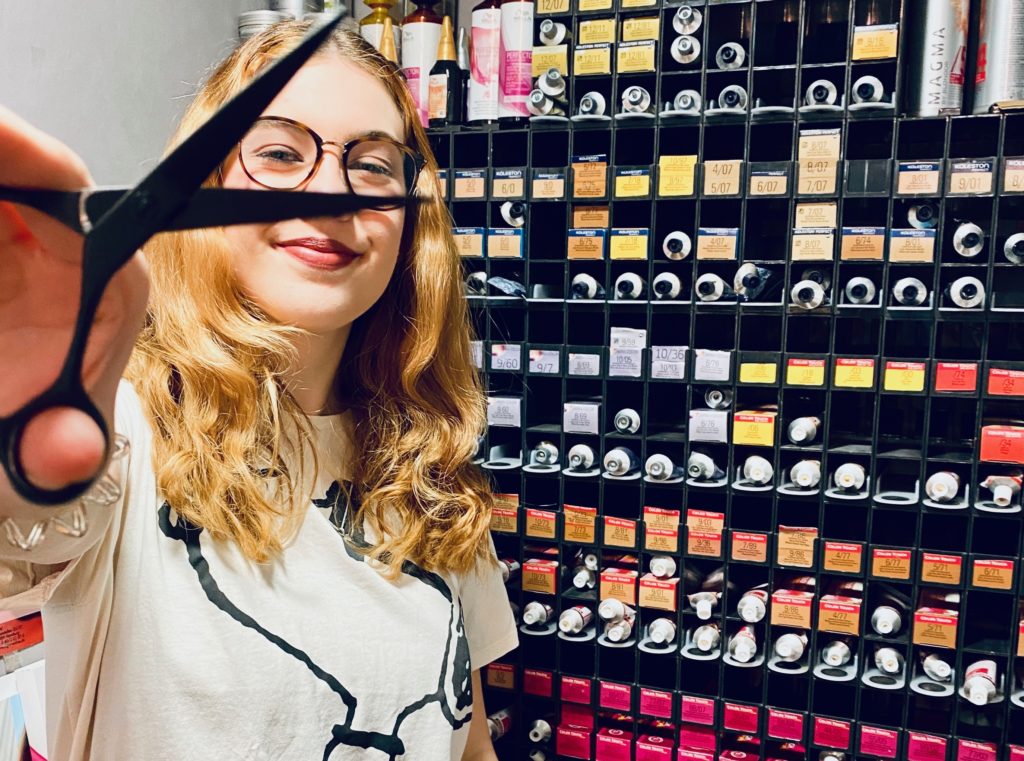 .
This #PassionWeek around the craft goes into the second round. In the first part of the #PassionWeek you have already met the carpenter Jule and the craftswomen house.
Today we introduce you to two very special young women and their craft professions. It's all about the difficulty of finding the right apprenticeship without being influenced negatively by the opinion of others. And to show social commitment with their own craft and to strike the balance between pressure to perform, imagination and reality. Small reference at the beginning: Both are called Charlotte – so don't be surprised.
Not wanting to sit still – Charlotte decided to train as a hairdresser
.
Our second power woman this week, Charlotte (16 years old from Hundsangen), has recently started her training as a hairdresser.
"A main reason for me was that I want to stay in motion in order to be in contact with people. And fortunately, this is mostly the case in manual professions.
.
To see the customers happy with the successful final outcome satisfies me especially!
The most important thing for me are the people I can work with. I enjoy making people happy, for example with new hairstyles or face make-up, or simply beautifying people when they want to. And because this job gives me so much pleasure, I make very good progress and feel a huge sense of achievement. It's also a very responsible profession and I particularly like that customers give me this trust.
.
"What? You won't make much money doing that!"
Many people mention money as a reason why one should not learn the hairdressing profession. Many say as a hairdresser you don't earn anything and can't build a real life with it, which I don't see that way!
I think that the profession I am currently learning offers me a lot of opportunities for further training and a lot of potential in later on. From teaching profession at vocational schools or as make-up artist to a make-up artist, anything is possible.
.
.
So, I made my own independent decision
The information about possible professions I gathered on the Internet. Then I have looked more closely at each individual topic and thus have been able to find out what I want to do. Besides, I never had fun sitting much, not even at school.
.
Through various internships I have found what suits me.
I also did various internships, including one in an association community, where I really sat a lot and had a lot to do with office work. And there I simply realized that this is not for me. So, I was able to rule it out and through further internships I found out that I would much rather do something 'right', something I can touch and get started. Something that not only works with my head, but more physically."
Some time ago we published an article in which the author interviewed her own grandmother. Here the author's grandmother tells the author about her great passion for her profession as a hairdresser.
Via the "Junge Handwerk" to Ghana – Charlottes launches the final collection "Akwaaba" as a professional tailor
.
How can I become involved in development aid as a tailor and thus support social projects? This is what our third power woman Charlotte (22 years old from Cologne) asked herself during her training as a tailor. Charlotte got to know the organization "Meeting Bismarck" through the initiative "Junges Handwerk" of the Development Aid Program of Engagement Global gGmbH.
.
These semester vacations have changed everything.
In summer 2018 Charlotte travelled to Ghana for the first time – and very spontaneously – during her semester vacation to support deaf Jenny for five weeks as a volunteer.
"In retrospect, it was a little adventure and today I think it was really brave. Today I sometimes wonder if I would ever have the courage to fly off like that again," laughs Charlotte in the interview.
.
Teaching your own profession with hands and feet – a challenge
The sewing project was started by "Meeting Bismarck" in 2013 to give deaf Jenny a chance to lead an independent life through further education adapted to her needs. In addition, she should be able to earn her own living. During her stay Charlotte worked at Jenny and her family.
"First of all, it was a culture shock in general, of course, and then living and working in such completely different circumstances was a very intense experience, but also a really nice one. In retrospect I can say that I took so much with me and learned so much from it that it was definitely worth it.
The work with Jenny was fun but of course also very difficult, because of the communication difficulties, because I can't speak any sign language," Charlotte explains further.
.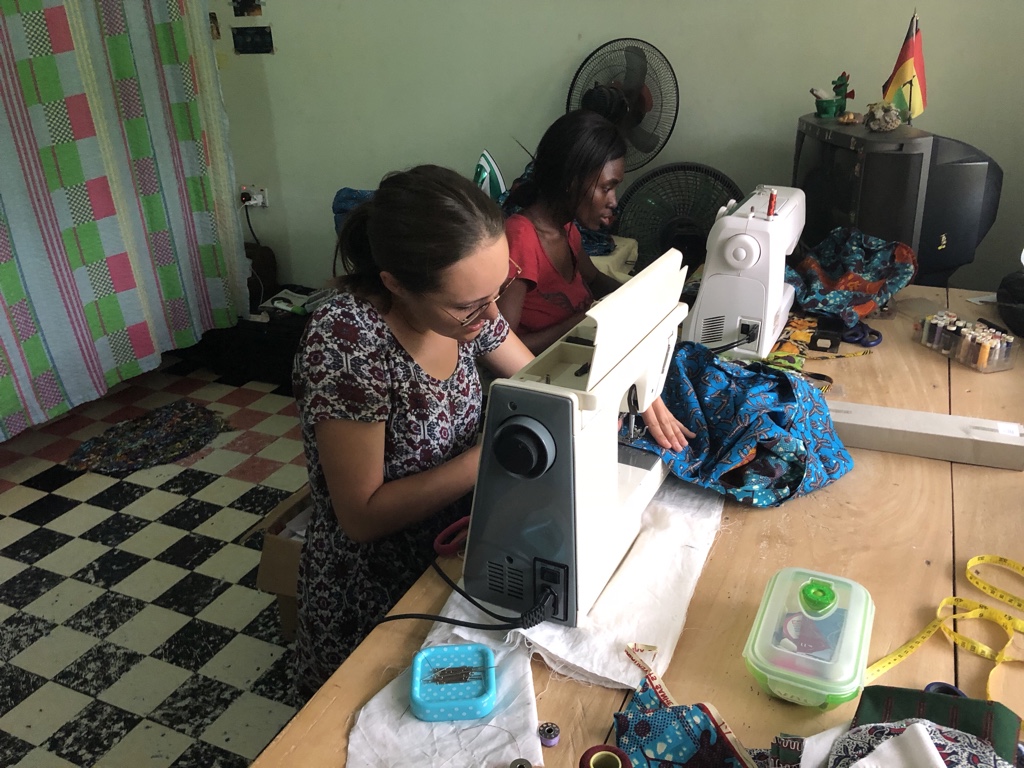 .
For the production of the final collection back to Ghana
For her final thesis as "Product Manager for Fashion Design and Apparel" Charlotte decided to produce her final collection together with Jenny and two other seamstresses in Ghana. So, she set up her own project on site and is very pleased with her final collection, the she called "Akwaaba" has thus become a teacher of her craft and an independent employer. "Awaaba" is the local form of salutation.
.
.
A passion with a lot of responsibility and pressure
"It has been exhausting to bear all the responsibility, the pressure of whether everything is ready on time and to keep the balance between respect and work instructions that I had to give. But it still worked out well and I experienced many great moments – even if I had to lower my very ambitious demands from time to time.
.
Sustainable production was very important for me
I have previously bought the fabrics here in a fabric warehouse where "waste products" of the big fashion industries are bought up, which are otherwise burned. With my own sewing machine in my luggage I could start. By the way, I left the sewing machine there later on. I am a bit sad and miss it, but on the other hand I know that it is in good hands now," Charlotte describes.
.
Every beginning is hard?!
Maybe yes, but Charlotte has a great tip for you: "Just get started without worrying if it's right or wrong. After all, that's how I started!
.
Now I master my craft
I always find it totally fascinating to have created something with my own hands. It is a really nice feeling, now that I am trained, to know how it really works and to really master a craft. And to be able to do something good in a development project and help others with my craft.
.
Here are the photos of the final collection "Akwaaba" and the label "Remarkable" by Charlotte Kramer.
What contribution has inspired you most about this #PassionWeek? What does your craft dream job look like?
.
.
* This article contains unsolicited and unpaid advertising.