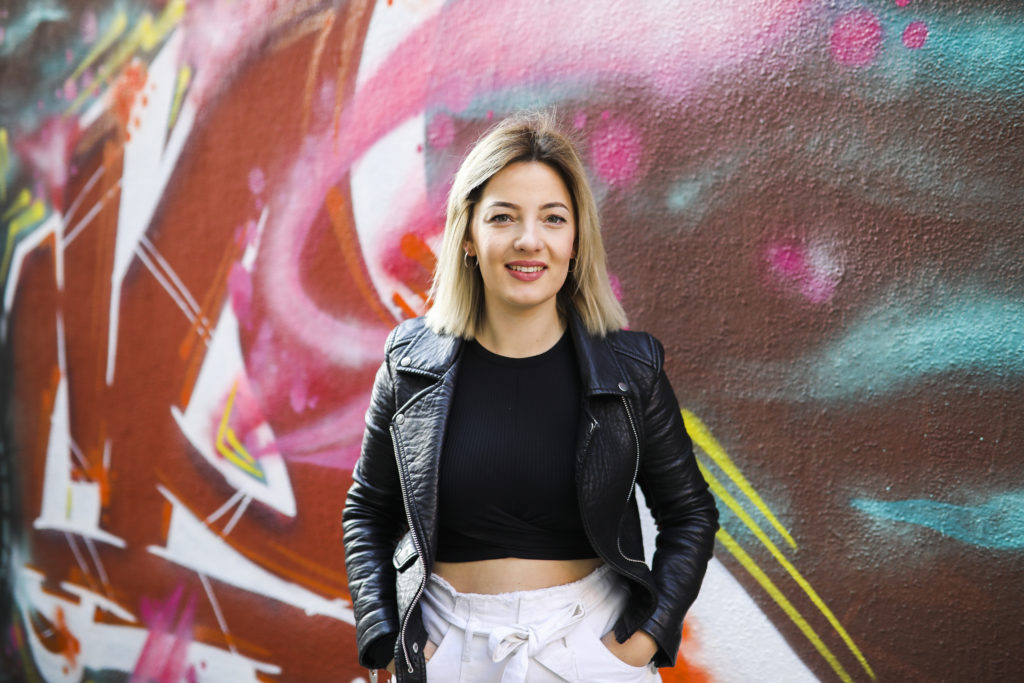 Hi, my name is Angelina, I'm 28 years old and this is my #afterschool story.
This is what inspires me
I was born in Aachen, but when I needed a change of scenery, I moved to Cologne almost one year ago. In this beautiful city, I live with my boyfriend Hassan in a very nice but overly expensive apartment. 🙂 I am an absolute music enthusiast – I have to listen to something all day long, preferably rap or alternative indie, but I am also passionate about oldies and the ???. I love to travel, but I don't do it often enough and to get the blame off me, I blame Netflix and Instagram. I'm a little couch potato, but I always try to do something for my health, because my job is dominated by sitting in front of screens.
I love cooking, trying foods and experiencing all kinds of restaurants. I love life and I'm happy about every day I set myself new goals, which each time I only realize partially. What makes my boyfriend drive crazy, I enjoy it – in a former life I must have been a koala bear. Eat and sleep, eat and sleep – what else?
It was anything but easy to decide at the age of 19
It was always clear to me that I wanted to do something "in the media", I simply didn't know exactly what at age 19. My grade point average (a 2.4 in the German system) was too poor for creative media studies, I would have liked to study music journalism or fashion journalism directly, but these studies are mostly private. So, I tried to do it on a scientific level, although I'm more practically minded. Since I also had a great interest in social and political contexts, I decided to study a course that combines all these components: Politics, Sociology and Media Studies in Düsseldorf, Germany.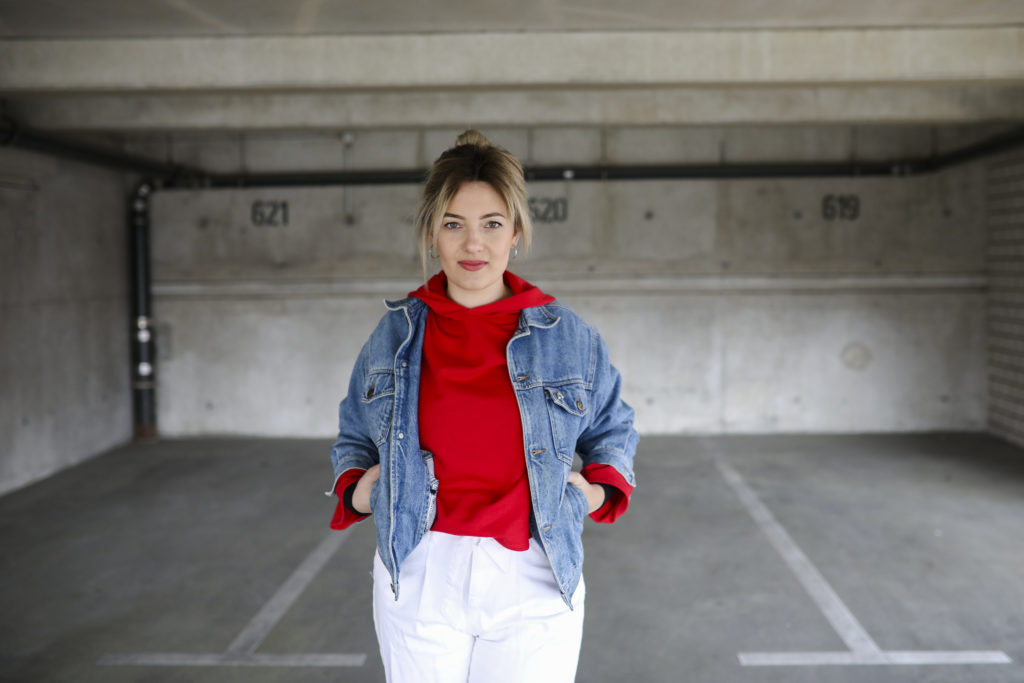 Repeating a class was finally my luck
In the 9th grade, I had to repeat a year and to make matters worse, also because of my favourite subject history! I was in a phase of life where I was lazy and especially was not interested in going to school! Also, I had a history teacher whosimply had no understanding of children in puberty. But what can I say? The extraschool year was the best thing to happen to me! I joined a very nice class with a great teacher, who tried very hard to deal individually with all pupils. Through her, I rediscovered my interest in education and knowledge. Sometimes a major change like a new class at school or a new school or the addition of a mentor, i.e. a role model, can have a big impact.

Mädelsabende is meant to be a platform especially for young women
"Mädelsabende" is an Instagram format, that deals with everyday matters arisingmainly in the lives of young women. Each week, we set a theme, which we then treat from seven different perspectives. These can be topics like friendship and relationships, but also topics like masturbation, racism, breast cancer, addiction or pregnancy. We want to give young people the opportunity to learn about different subjects, to exchange ideas with others and to see that we are all in thistogether, no matter whether good or bad topics.
Who is Angelina?
Angelina aka Lito is a journalist, moderator, social media professional, singer and knows every trend. For "Mädelsabende", a format by WDR für funk she manages to get to the heart of often unknown and uncomfortable topics with her open-minded manner, with humor and empathy, so that she not only enlightens, but touches and inspires many people.
Such a platform did not exist in my time and of course I would have been super happy if there had been "Mädelsabende" in my youth. Especially nowadays, when the social media pushes so many topics, which we must deal with on our own, I think it's very important to range things in together and to form an opinion together with others, instead of letting a small screen dictate everything. An example? Instagram suggests to young people, women AND men that women need to be slim, shave their legs and have large breasts to be attractive? No! The reality is different, and we should talk about it!
I joined in August 2018 because I liked the concept of the Social Media channel somuch and simply applied spontaneously, a characteristic that has opened many avenues for me. The work there is super varied, and every week I learn something new!

Taboo subjects do not stop me from raising my voice
Topics, that are very emotional or very personal always cost a little bit more effort. Who likes to talk to 100,000 people about their bowel, or easily visits a person who is in a persistent vegetative state? But such things are so important! And of course, there are a lot of taboo topics! I don't even mean something like masturbation or cellulite, but also topics like abortions or even marriage can lead to heated discussions. In my week on marriage, for example, I asked why so many women still insist on men proposing to their women and whether it wouldn't be possible to do without weddings altogether. That is, of course, dynamite for discussions. But I love that too.
To make people think and to bring them into dialogue with each other. I see myself more as a mediator, who provokes impulses, but I also let my own opinion flow into the dialogue. That's what the community also likes so much, because it's authentic. When I am approached on the street from time to time, I only get positive feedback and gratitude for our work. Because our followers know – every opinion is welcome, and everything can be talked about.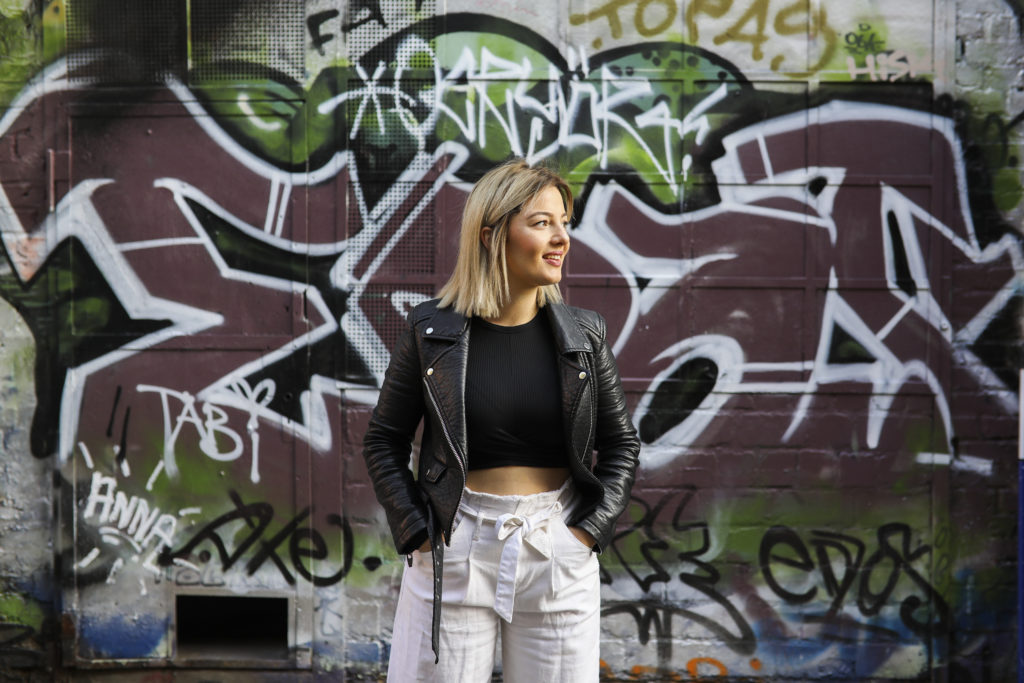 My song shows us the potential we have
My own song "Selbst ist die Frau" is about self-love, on all levels. No matter if from outside or inside – accept yourself as you are! Women tend to constantly compare themselves to others. Yet so much potential lies within oneself. If you constantly look left and right you waste energy and time, time in which you couldrealize projects, or simply do yourself some good. I also again and again have self-doubt, the best example is the music. I've always been constantly checking what others are doing, social media can really get you under the spell. Instead of writing songs, I just looked at what others were doing – it's totally paralyzing! NowI'm at the point where I'm trying to concentrate on myself and just keep releasingmusic. So, stay tuned.
Despite the variety and quantity of my tasks, I always give my all
I must confess, I'm a bit of a mess. So many ideas and to-dos are buzzing around in my head – and in the end I get 2 out of 10 plans implemented. That's just the way it is. I have resigned myself to that. There definitely are more productive people than me, but I don't stress myself. I always try to dedicate 100% to a subject and I think that's better than giving 20% for five subjects.
Like Angelina, Belle is also working on her future dream
"My future dream is to be a singer because I just love to sing. To achieve my dream, I want to take part in talent shows and publish videos in which I sing on Youtube.
My only concern is that I would no longer have enough time in this job for the people I care about. Nevertheless, I would advise everyone to always work on your passion and above all to believe that you can do it. You just have to pray and fight a lot! "
Belle, 17 years old, from Hürth
My best decision was to go to New York
In fact, I was influenced by two very formative experiences, that I had during my internship in New York in 2017. For various reasons, I had decided to do a master's degree, which I found stupid, in a city I didn't like. Why? Firstly, I didn't know what else to do – I hadn't gained much professional experience yet and all my friends, who were also studying, added a Master's and secondly, I could already hear the voices of my family in my head: "A bachelor's degree is worth nothing today…" (Which is absolute bullshit). As soon as I arrived in New York, all the pressure, that had built up, was immediately released.
The colourful hustle and bustle and the working world immediately grabbed me, and I knew after a few weeks – I don't want to study anymore! Theory and sciencewere quite nice for six semesters, but I'm full of ideas and want to try me NOW instead of continuing to write homework. No sooner said than done – I applied from New York to 1Live in the online editorial department and, thanks to a very creative application, I got the job immediately. Best decision ever.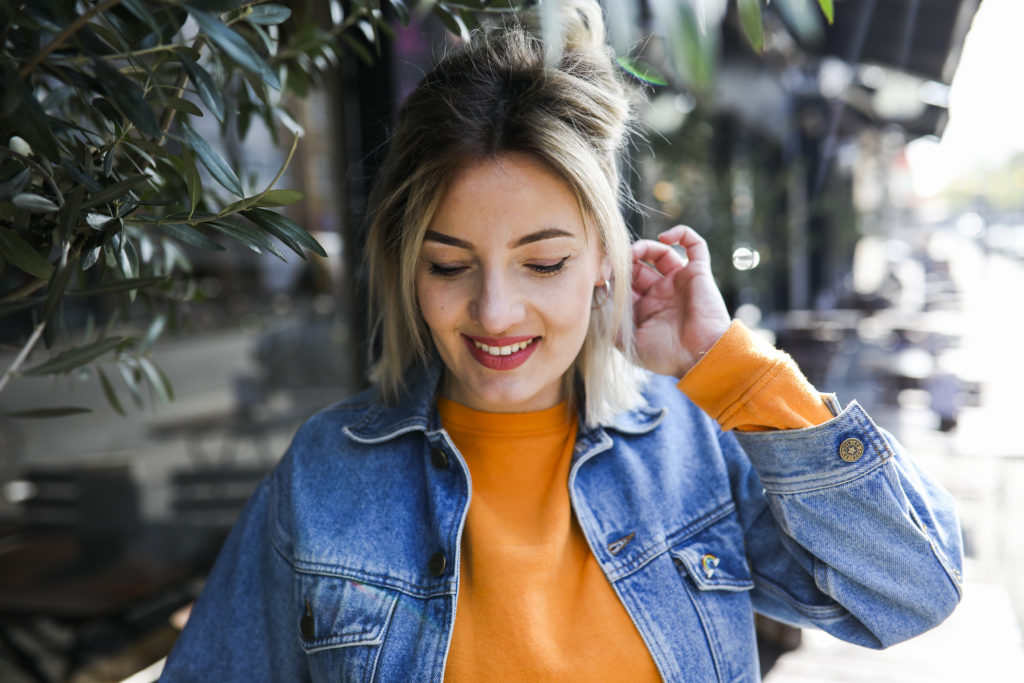 My spontaneous unsolicited applications have always paid off
Once again about unsolicited applications: Sometimes I do it very spontaneously, because I want to seize the moment. During my studies in Düsseldorf we had a seminar in which a different person from the professional world came to us every week and told us a little bit about his job. A week before, I had seen on the list that the head of a Düsseldorf regional newspaper came to visit. While he was stillspeaking in the lecture hall, I wrote an email parallel to listening to him and applied to him for an internship in the local newsroom – he thought it was so funny that he sent me an acceptance directly and after two weeks of internship I started working there as a freelance writer and thus paved my journalistic way.
My #girlsforgirls tips
Give it a try! If you have a goal in mind, that's great, of course, but if not, that's perfectly okay! Do not let yourself be influenced by the left and right, but try different things and even if you change training company or course three times.
Get informed! A little financial independence can't hurt, then others can talk you into it even less. My parents never had the big money now, so I went to work on the side and found out where young people could get help in my situation. No matter whether it is a student loan, a student loan, housing allowance or even a scholarship. Get informed!
Do it! Never think it's not worth it or not good enough for a job, internship, whatever. Many men see a job description that says: The applicant should be able to 1,2,3. Can you do it all? No! Do you still apply? Yes! Because being invited is half the battle. Many women tend to say: Oh, I can only do 75 percent of what is asked for – then preferably not. And who gets the job in the end? A man because he exaggerated said he didn't advertise a woman. Of course, this is now something more extreme than it is, but I would say it is: just put something more in the balance. Lying is of course a no-go, but everyone is always a bit flustered, a little bit better than it really is – regardless of whether it's firing, playing sports, playing board games, or just interviewing. Do it!
When have you ever been spontaneous and taken an opportunity immediately? Or have you found another way that is successful for you? Then please describe itin the comments.
Yours Angelina