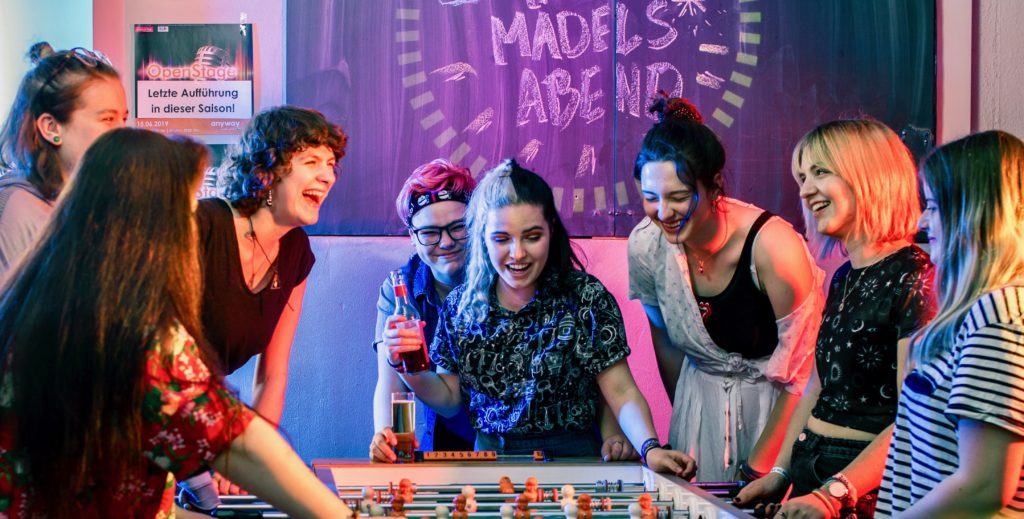 And suddenly everything is a bit different somehow: puberty – the time of growing up – is often a confusing but also super exciting time. Discovering one's own sexuality, the first attempts in love life, Do's and Don'ts – and sometimes just that can be too much, right? This is exactly what we want to talk about this week!
We have put together exciting and important know-how and some valuable tips for you. With the help of our experts who live out their passion in the field of sexuality. With this, many of your questions and uncertainties in the jungle of feelings of your own sexuality can be clarified!
Myths, Do's & Don'ts and the first time – sex educationist Barbara explains
"Sexual identity, just like personal identity, is never finished or completed! These are all processes that start at puberty but are never finished and are not static. So sexual identity can and may change and evolve at any time."
Our expert Barbara Schiller (37 years old from Cologne) will tell you the great myths about sex. She is a sex pedagogue and works in the Cologne Centre of pro familia. Sex education can be studied for finishing with a Master degree. pro familia advises all over Germany on sexuality and pregnancy regardless of age, sex, religious affiliation or sexual orientation, anonymously if desired. All consultants are subject to confidentiality.
The right to sexual self-determination
"Basically, everyone in Germany from the age of 14 has the right to have sex, if you really want to, feel ready for it and have the desire to do so. And if that is the case and you do it for these reasons and with the motive, I can only say, wonderful, then do it! Because that is the right to sexual self-determination!"
Unfortunately, there are still myths around the topic of sex, which exert great pressure on girls and young women. Often this results in a distorted picture of sexual power relations in which the sexual self-determination of young women in particular is denied or given little consideration – and this is exactly what we want to talk about here. Your sexual self-determination is your right and only you decide how and what you want. And of course, in agreement with your partner.
► The hymen does not exist in the way it is the common assumption! You cannot tell whether someone is still a virgin or not. The so-called hymen is actually a wreath of mucous membrane that is more or less elastic and stretchy. The wreath does not go away, not after the first sex, not even after several births. Besides, it doesn't have to hurt the first time! It creates pressure and fear for many young women, including when it comes to (no) sex before marriage. This myth keeps power structures alive and clearly shows how girls are scared so that they get inhibitions, self-determined and with curiosity to discover their sexuality.

► Masturbation: Girls and women generally, but especially their sexual organs, take a critical view of themselves and with shame, and they are often told that they should not live out their lust. But girls can confidently say YES to lust and they can also satisfy themselves! And the advantage of masturbation is that during sex you know better what you like, what is good and works well, and then it is all the more fun to try it out together.
 
► Unrealistic portrayal in pornography: Young girls are often given passivity during sexual acts and men that they have to take over the active part. Pornography also contributes to this. Because pornography shows only a small part of the many sexual dimensions and often leads to great pressure for young women, you would have to have it or that the genital organs would have to look exactly like the actresses. And that is not the case.

► The first time: From a purely statistical point of view, it takes place for the first time later than in the past decades. Namely between 16 and 17 years. It is not premature, it is a misconception that is not true. Rather, it is that girls are less likely to say that they had their first time because they are afraid of being considered a "bitch". You should never be ashamed of sexuality, because it is something really beautiful!


Drawing clear boundaries is important – but not so easy either
But if you, no matter what age, feel unready, don't feel like it or you just have a 'strange' feeling about it, it is very important that you say no and draw your clear line! And that's totally okay! Our expert will give you tips on this:
A no can also be hard, unfriendly and resolute! You are allowed to defend yourself! You can be loud and you can be unfriendly!
Your own feeling is always right!
"Practice saying "no"! (maybe with your girlfriend – the most important thing is not to smile when saying no. Check your stance, voice and posture).
What happens when I can't say no?
But it can also happen that saying no and drawing a clear line is not possible. Even if you've practiced it before and always intended to. Reasons for this could be fear, shame or built up pressure. So, if a line has been crossed for you, these are the most important next steps:
Very important: You are not to blame! The other person has made a mistake and crossed a line and this is not your fault, only the other person's fault! So have mercy on yourself and realize that it was not your fault!
You need to confide in someone and talk about what happened. Don't keep all this in your head and try not to make it out with yourself!
Depending on what happened, you should also consider whether you want to report this person.
Get support! Whether from your circle of friends, your family or professionally. Here you can also come to the pro familia youth counselling service or call anonymously! In addition, you can always dial the nationwide emergency number of the help line 08000 116 016 for violence against women! Boys and men can also experience the same situations and in this case you can always call the help phone for violence against men: 116 006.
Body Positivity: Barbara's #girlsforgirls Tip for you
Love you! Look in the mirror and don't look at what you don't like, but at what is beautiful and makes you unique! Get to know your own body carefully and lovingly! Give yourself the permission to feel your own body as positive!
And this is not only relevant for ourselves! Because especially in puberty and when discovering our own sexuality we all have our #Passionchallenges. Therefore, we have to stop with the mutual evaluation and should instead think about how to support each other according to the Body Positive Principle. We should be in solidarity with each other and support and celebrate each other in our own uniqueness and individuality, because all are beautiful! And it is exactly this diversity that is normal – not that all are equal!"
#Passionchallenge: the sexual orientation – Marijke from anyway has tips for you
"It can be very stressful and psychologically stressful not knowing where you belong or what you are looking for. In a certain way you are looking for belonging," Marijke (24, from Cologne) tells us.
To discover and recognize one's own sexuality can often be very confusing, maybe even frightening. Especially when you become aware that you may not correspond to the sexual orientation stigmatized by society as a "norm", which corresponds to your own sexuality.
Just like the "anyway", the Cologne youth café for gays, lesbians, bi, trans* and queers, we think that it is total nonsense to declare any sexual orientation as normal or abnormal! And that everyone should be free in his or her own sexuality.
Cologne youth café for gays, lesbians, bi, trans* and queers – you'll find support in anyway
Marijke has been connected with the "anyway" for a long time, first completing her federal volunteer service there and after continuing to help out as a volunteer, she has now joined the team again as an intern as part of her studies in social work.
"The "anyway" helped me, among other things, to find the right path for myself. From the very first day I got the feeling of belonging to the team, because I was integrated and connected very quickly by the full-time staff, volunteers and visitors. I associate only positive moments with this time! Moments of belonging and moments of friendship that last until today."
How do girls find their sexual identity?
Marijke is convinced that it is impossible to generalise about the exact challenges girls face in the search for their sexual identity or how they are evaluated. Because "people are own individuals and therefore also their views of the challenges they face in the search for their own sexual identity.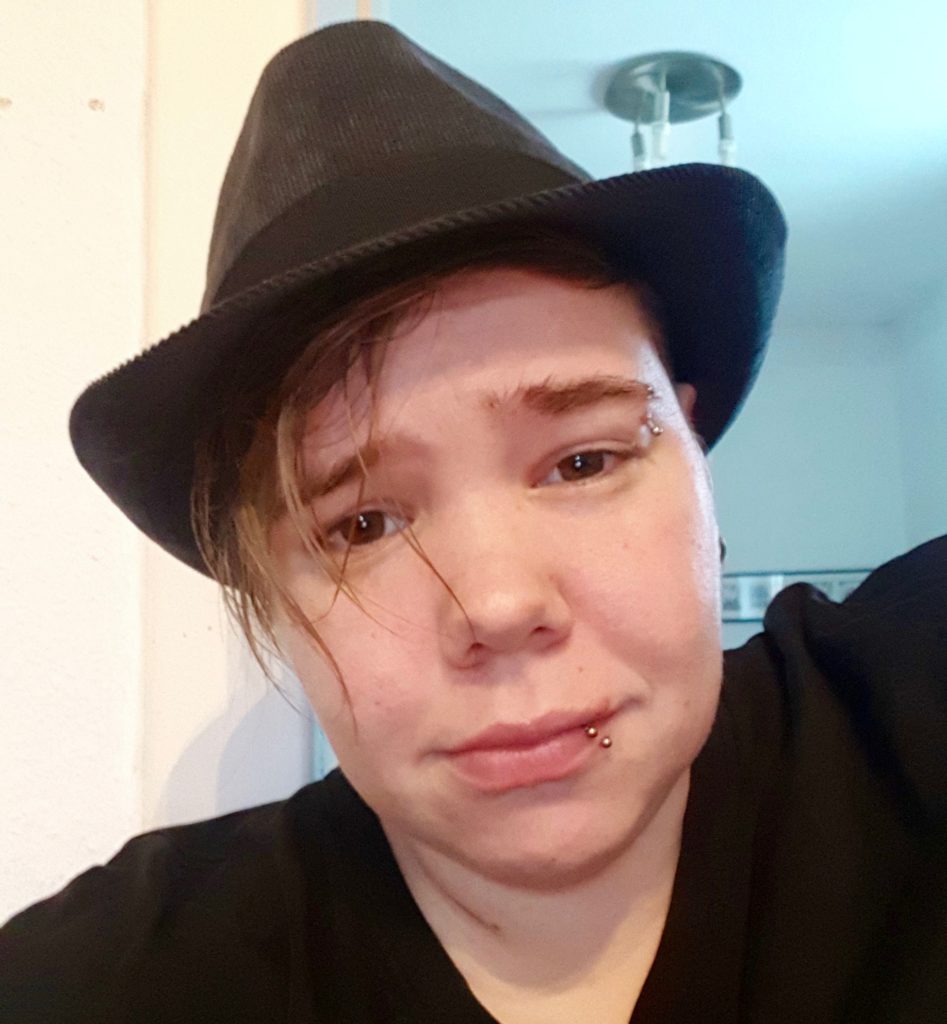 Tips from Marijke: How to discover your sexual identity
Marijke has a few important tips for you to make your search for a sexual identity easier:
Listen to yourself!
Take your time! (don't pressure yourself to make a decision)
And don't let anyone tell you anything!
We need more sexual education work!
Definitely there should also be more sexual education work, because there are much more sexual orientations and identities other than lesbian. For example, there is bisexuality, pansexuality and many more. Also, not all girls/ women are cisgender girls, because there are also trans* or non-binary people. And that's exactly what "anyway" is committed to. And that's exactly what anyway is committed to.
And that's exactly what a lot of girls and women don't realize at first, so how much sexual identities exist, and this makes it eventually more difficult for them to search for or find their own sexuality. Some young people simply need people who will listen to them and who may be able to share already own experiences to make it clear that you are not alone. It's important to know, that many others were already in this situation themselves or are still in it.
anyway – youth café for gays, lesbians, bi, trans * and queers photographed by Danny Frede
Join in – Max reveals why AIDS and safe sex are relevant for you
"After the great AIDS panic in the 1980s, the topic does not seem relevant or of interest to many young people today, especially in Germany. Because often many still automatically associate the topic of AIDS with homosexuality, drugs and Africa. So as long as you don't have any contact with any of these three points, many young people mistakenly think that they don't have to be interested in AIDS and that it won't be dangerous for them. That is what we unfortunately still experience and that is why we try to bring the topic back into our society and discuss it very openly."
Max (26 years old, from Stuttgart) has been part of the Youth against AIDS initiative for four years and is Head of Marketing. It all started in 2009 with a group of schoolchildren from Hamburg who sold the yellow AIDS ribbons to raise money for World AIDS Day. The initiative grew quickly and today Youth against AIDS is active in many countries around the world with various projects to educate about AIDS and safer sex and many other sexual issues.
Safer sex is about much more than just AIDS
"Safer sex encompasses a much wider issue than just AIDS or sexually transmitted diseases. AIDS itself is – at least in Germany today – well treatable, although unfortunately still not curable. But there are many other diseases besides AIDS that are sexually transmitted and there has been a high increase in the number of people infected with them in recent years, for example with syphilis, gonorrhea and chlamydia. Even though these diseases are not necessarily as dangerous as AIDS, they are unpleasant and definitely avoidable. Therefore, it is still absolutely necessary to talk about diseases and safe sex to show possibilities to (effectively) protect against transmission. This always includes a conscious handling of Sexuality and sex in general."
Youth against AIDS: 3 tips for young women

Talk about it! – and not blunted, because open communication is extremely important
Especially as a girl and woman, you should take contraception into your own hands and also use it persevere! And this is not only about contraception, but also about safe sex, i.e. the contraception of venereal diseases (for example, you can use a Femido, a condom for women, if your partner does not want to use any).
You should just think about sex in a self-determined way, talk about it and in the end act on it.
Youth against AIDS comes to your school
Youth against AIDS offers workshops in schools, as a supplement to sex education, in which young people of almost the same age and previously trained in the so-called academies, an extensive portfolio of educational work is being done. This creates a safer space, so more likely an atmosphere like with a big brother or sister, with whom the students talk about sexual topics and are more likely to dare to talk about topics that they often like to avoid speaking about with a teacher. In addition, the workshops are designed to be interactive.
Pictures: Youth against AIDS
Passion lottery: FAQ YOU – An educational book from Youth against AIDS


FAQ YOU is an educational book by Youth against AIDS and also a compilation of questions that are answered in the workshops is provided. These questions were answered by many prominent influencers and professional experts. This book is also aimed at those who are already out of school and perhaps think that they are already pretty well enlightened. This book is surprising and informative!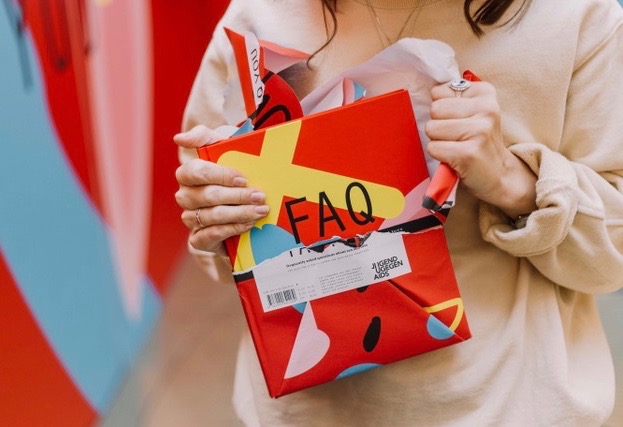 With whom can you talk relentlessly about sexuality?
*This article contains uncommissioned advertising.